Today, I sat down with Dan Brayton, Senior Director of Operations at Iterable, a company whose growth marketing platform enables brands to create, execute and optimize campaigns across many platforms with unparalleled data flexibility. He shared one of the many use cases that their team is utilizing BoostUp. Today's focus – Forecasting. Let's dive in.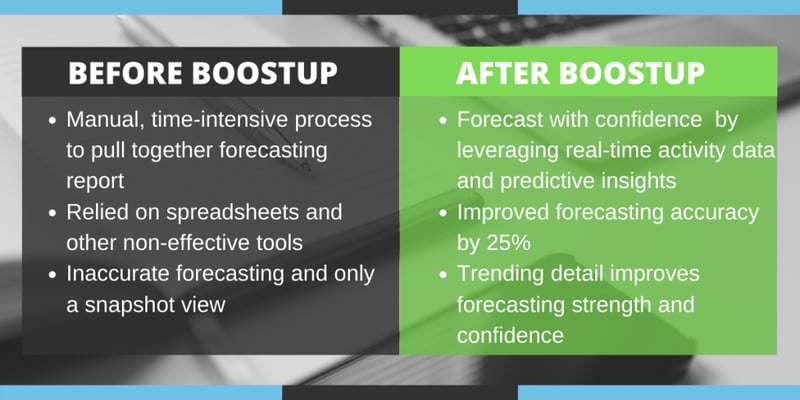 Before Implementing BoostUp

Brandon, BoostUp: How were you putting together your forecasting reports before getting engaged with BoostUp?

Dan Brayton: We were doing what many other companies do before deciding to look at companies like BoostUp. We had Salesforce pumping data into spreadsheets through a G-Connector. All the updates were happening through Salesforce, in terms of manually flipping things to the forecast category.
It was a painful and very subjective process, requiring a lot of manual effort. We also spend a lot of time (operations, sales reps, and sales managers) looking at our opportunities and deals and trying to understand where they were in the process and how many we thought would close that month. We looked at deals, trying to understand how many were single-threaded versus multi-threaded, how engaged we were within the opportunities, and where our confidence level was that they would close on time.
Brandon, BoostUp: It seems like you had a process in place, but it was time-intensive and didn't yield the desired results.
Dan Brayton: Yea, it was fuzzy, at best. We tried hard and spent a lot of time getting our forecasting as accurate as possible without any insights into risk or engagement. We had no way of knowing the sentiment of the conversations we were having. We did not have a line of sight into the current quarter forecast, next quarter forecast, where the pipeline was for current and future months, or coverage ratios. We ended up spending a lot of time reading through everything in Salesforce, meeting as a team, but in the end, the process was not ideal.
After Implementing BoostUp
Brandon, BoostUp: So why BoostUp?
Dan Brayton: The transparency that BoostUp has given us is unparalleled for forecasting tools. We evaluated other vendors, but we felt there was still a black box for engagement, forecast risk, and our deals' overall health. BoostUp has everything that the other vendors had. Additionally, BoostUp gives us insight into deal health, deal risk, and deal momentum. We can now more accurately, predictably, and confidently forecast. With BoostUp, we can dive into all activity data right from BoostUp, whereas with other vendors, you have to navigate back into Salesforce.
BoostUp has given all of use a higher level of transparency. That allows everyone from our CFO to our front-line manager to review deal risk, coach sales reps more effectively, and identify which deals should show up in our forecasts.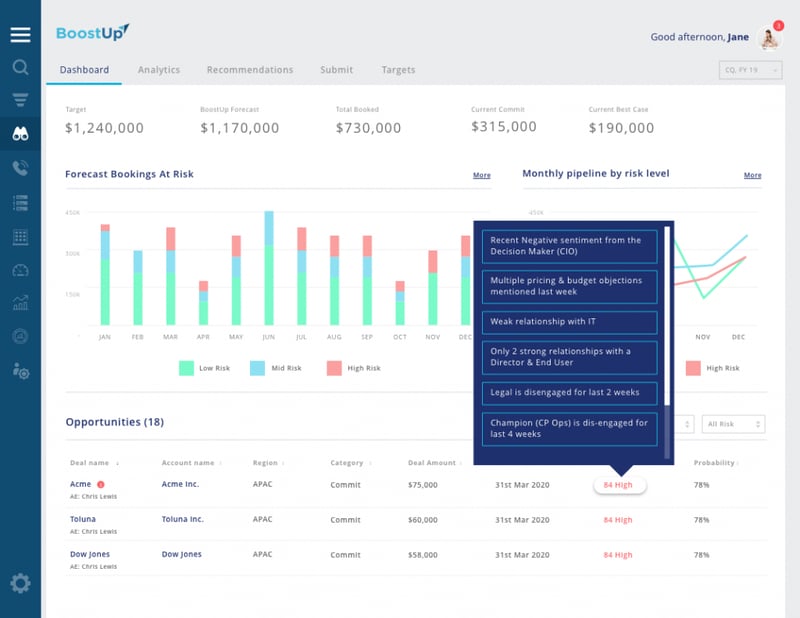 *Sample demo data for visual representation only.
Brandon, BoostUp: How many people us BoostUp today?
Dan Brayton: We have roughly 70-75 users in BoostUp today, and over 90% of those are active, highly engaged users. We all use BoostUp to run our business. Having everyone is BoostUp, syncing all the activity data, and getting those highly accurate engagement and risk scores are vital as we forecast confidence and accuracy. That level of transparency is needed to forecast accurately.
Brandon, BoostUp: It is great to hear that BoostUp is an integral part of the sales process.
Dan, Iterable: Our sales reps and managers use it for their 1:1s, for their team meetings, they leverage it for their QBRs, and we run our forecast calls through BoostUp. Today, we use BoostUp for forecasting, deal and activity management, pipeline hygiene, pipeline inspection, and forecast management. I can confidently say, we are significantly more accurate in our forecast prediction than we were before BoostUp, to be precise, more than 25% more accurate. That and we are not spending near the time and effort as we were before.
Brandon, BoostUp: Dan, it was a pleasure speaking with you today.
Dan, Iterable: Likewise, our collective team is thrilled with our purchase decision, and we continue to look at ways BoostUp can help us transform our sales process.
BoostUp has given us greater visibility into not only our forecast but our deal health. Before BoostUp, we used spreadsheets and other systems, making this process very difficult and inaccurate. With BoostUp, we have a new level of clarity, and we're never going back!
About BoostUp
BoostUp's contextual revenue intelligence platform enables companies to drive revenue through efficient and reliable forecasting, from new pipeline to renewals to optimize customer lifetime value. Purpose-built for digital, hybrid, and remote workforces, BoostUp automatically ingests data from dozens of digital channels and business applications. BoostUp then extracts context and sentiment from that data to increase forecasting accuracy, accelerate deals, reduce account churn, and get AI-driven guidance on pipeline gaps. For more information, please visit: www.boostup.ai.