The Revenue Blog /
MEDDIC for Enterprise Sales = Increased Revenue.
MEDDIC for Enterprise Sales = Increased Revenue.

Brandon Most
January 12, 2021
Topics covered in this article
Sales organizations are looking for ways to implement and reinforce an evidence-based sales qualification methodology within their sales process. I continually hear how important it is to implement a structured sales methodology, such as MEDDPICC/MEDDICC, SPIN, and NEAT selling. Regardless of company size, vertical, or sales structure, it is almost always on the list of priorities each year but why doesn't every sales organization have a sales qualification methodology implemented?
What prohibits sales organizations from implementing a sales qualification methodology?
Why is it so hard to implement a sales qualification methodology? It starts with RevOps, combined with sales leadership to lead the change, or it simply won't occur. Sales are constantly feeling the pressure to build additional new sales pipeline and move deals forward with minimal evidence that the deal is progressing or that the deal will ultimately close. This pressure often leads to the "sales process" not being followed or documented. Another challenge that many organizations become trapped in is the amount of time it takes to:
Build the sales process into their CRM, such as Salesforce.

Train and enable their sales teams.

Implement and create accountability across the sales organization.
I've heard from several sales leaders that their sales team must follow the identified sales process, but they have found it challenging to implement and reinforce. Suppose you are trying to build out an evidence-based process in Salesforce. In that case, you will likely require a Salesforce administrator to configure it, and then it is hard to get adoption because it can be difficult and time-consuming to update.
"If trained and coached effectively, many sales leaders will use the MEDDICC checklist at any organization they join regardless if they use it or require it. They've seen the value! Now on the other hand if the MEDDICC process is used as a "micro-managing tool" versus a "sales coaching tool" then it's often hard to get wide adoption."

Andy Whyte, Author of "Masters of MEDDICC"
What are the benefits of an evidence-based sales qualification methodology?
Having documented qualification criteria allows both the rep and the sales manager to "self-assess" their progress to quickly understand the next best step in the sales process to gain advancements in the sale. Rather than continuations that just waste time. The benefits of an evidence-based sales process, such as MEDDICC, is that it:
Accelerates your sales opportunity review process

Drives consistency and transparency across the sales team

Shortens the sales cycle

Facilitates sales execution

Identifies and points to the next best action.



"MEDDICC is a great sales qualification checklist used to close more deals and drive revenue. Many people think MEDDICC is its own sales methodology, which it can be, but it can also serve as the foundational checklist that you can build your sales methodology on top of, like Sandler or Challenger Selling. MEDDICC makes these methodologies better."

Caroline Franczia, Sales Consultant and Founder at Uppercut First (trained on MEDDICC by the Founders at PTC)
This, in turn, leads to easier sales management, better coaching, increased sales discipline and improves communications among the sales team. Focusing on an opportunity qualification process will ultimately lead to increased revenue as you are focusing on deals more likely to close and quickly disqualify leads that were never qualified in the first place.
It's old adage, quality over quantity. It will also lead to more accurate and reliable forecasts while increasing company profitability. Fewer pre-sales resources will be used on accounts and opportunities that will most likely never close.
"Evidence-based forecasting is a result of a disciplined approach to qualification. Qualification methodologies like MEDD(P)ICC help companies build this discipline into their sales motion. It starts with sales leadership wanting to change their seller's behavior and "coaching" them to achieve the change."

Bill Norberg, Partner, Sales Meddic Group
Increase sales compliance and drive consistency with BoostUp.
Implementing a sales qualification process is a huge accomplishment. Still, many of those initiatives ultimately fail due to sales compliance and adoption, which usually comes down to the ease of managing and updating.
Enter BoostUp. We are pleased to announce that we've launched support for evidence-based sales qualification methodologies such as MEDD(P)ICC, with the option to create and implement your very own custom sales process.
Within BoostUp, easily name and map out your sales process in a few clicks. Your sales reps can easily update each required step directly inline within BoostUp. Your managers now get real-time visibility into deal progression and sales process compliance.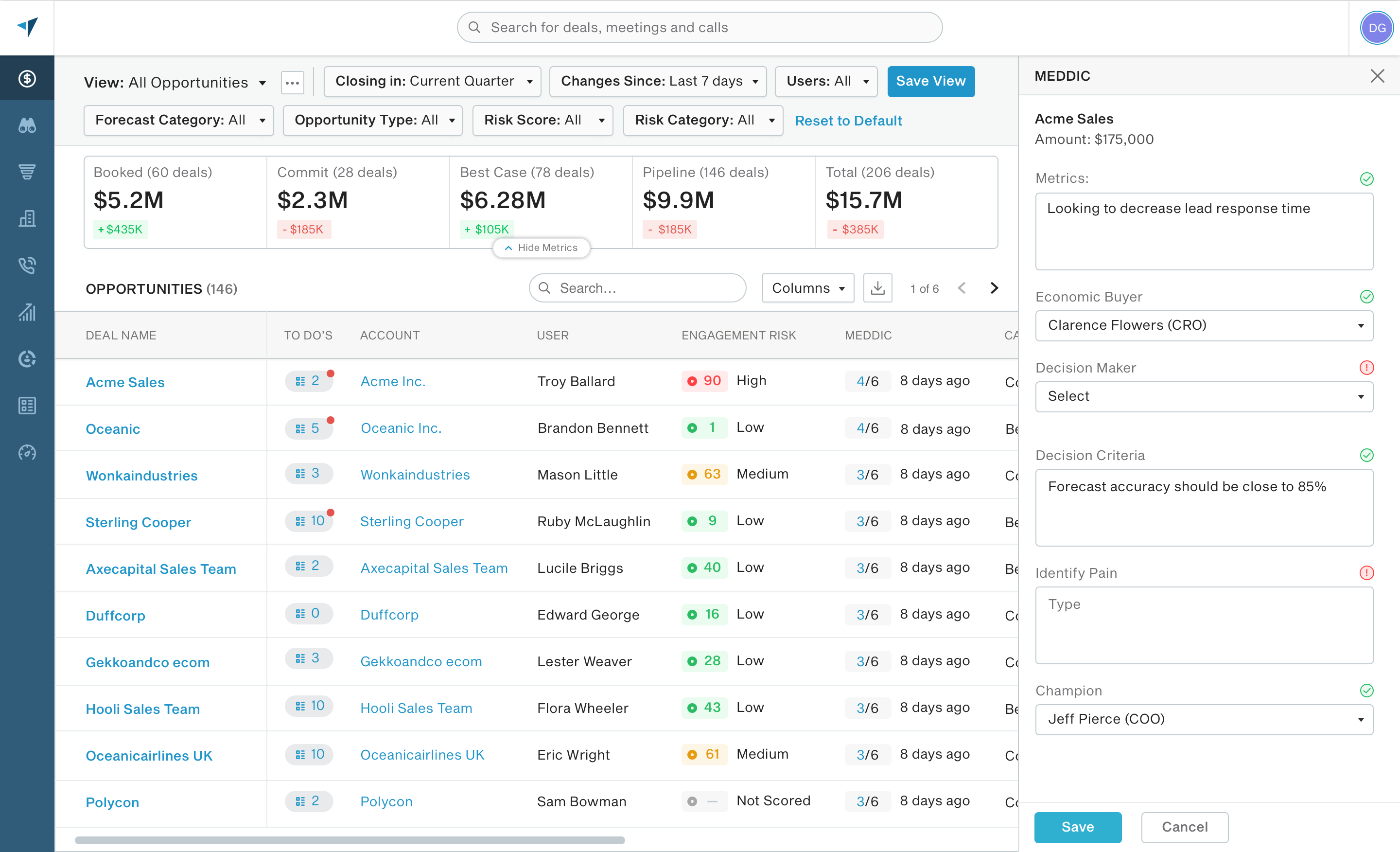 The inline sales process side panel accelerates your sales process reviews, improves compliance, and drives consistency across the entire sales organization. This natively built process encourages a more rapid and complete adoption of your new sales process. Rather than requiring extraneous work, the BoostUp platform streamlines the use of the MEDDICC or any custom sales process by providing a simple, easily understood, and easy-to-use method of utilizing it directly within the same space where a salesperson typically works.
This means that reps can complete the necessary fields in a minimal number of clicks, therefore requiring almost no extra effort or time to achieve the full benefits of the MEDDIC process or any other sales qualification process.
Contact us
to learn more about this new feature and BoostUp's Forecasting and Revenue Operations and Intelligence platform.