The Revenue Blog /
5 Ways to Gain More Accurate Forecasts with Insight-Driven Selling
5 Ways to Gain More Accurate Forecasts with Insight-Driven Selling

Zack Cronin
September 10, 2021
Topics covered in this article
Insight-driven selling is transforming the performance of revenue teams with its real-time, contextual insights into buyer behavior that empower sellers to engage with contacts in the most effective manner possible.
But, insight-driven selling also works to give you your most accurate sales forecast ever. Here's how:
1. Engage with More Customer Contacts for a More Accurate Forecast
An accurate forecast is partly the result of an effective sales function that produces the revenue required to meet your goals.
The average B2B opportunity now involves 6.8 different committee members, so it is imperative that sellers engage with as many contacts as possible to make a successful deal.
Insight-driven selling empowers teams to accurately identify and engage with more customer contacts. In fact, Windstream uses BoostUp and other platforms to power an insight-driven selling process that nets engagement with 2.7x more customer contacts and has seen a 22% higher inside sales win rate.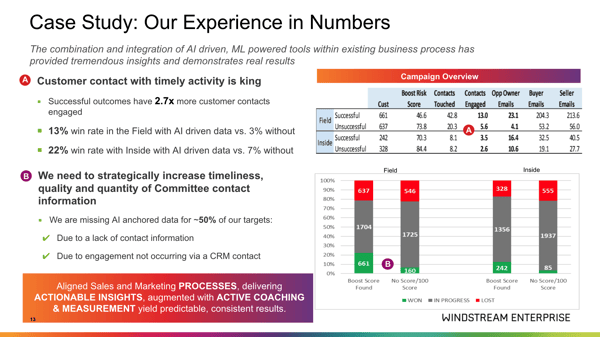 2. Insight-Driven Selling Increases the Quality of Buying Committee Engagements
To have an accurate sales forecast, along with engaging with more customer contacts, teams must ensure that their sellers are having quality engagements.
A quality sales engagement is timely, occurs through the proper channel, contains the right content, and addresses the right topics.
With insight-driven selling, sales teams can empower their sales reps with the right tools, information, and knowledge to have quality engagements with every contact.
Teams should use engagement platforms to understand where the buyers are, what information they need, and the concerns that they have, and then properly address those needs in the most optimal manner.
To increase their forecast accuracy, G2 uses their own proprietary sales data to create custom playbooks based on the needs and actions of their current and potential customers. For example, they use insight-driven selling to monitor product adoption and performance and use those insights to inform timely communication engagements or upsells.
3. Insight-Driven Selling Aligns Processes, Insights, and Results
An alignment between your sales and marketing processes to deliver actionable insights that are then measured and tracked is one of the most crucial aspects of an accurate sales forecast
Insight-driven selling is the next evolution in revenue operations, as it combines marketing and sales data to form actions that drive revenue. When you can convert more opportunities into deals, your sales forecast can be more accurate.
Insight-driven selling creates a complete (and accurate) picture of how you win deals. From where they are sourced, what content is involved, what sellers must do, and how they are retained. With this information, sales teams can create a winning, repeatable, end-to-end sales process that can consistently be forecasted on.
4. Automation and Prediction for More Accurate Forecasts
Insight-driven selling, as well as Revenue Operations and Intelligence platforms combine AI and data automation for an entirely new level of insight into your sales process.
First, automation handles the collection of current and historical data, as well as the assembly of reports and analytics. It answers simple questions like:
What is the total of committed deals for each seller on my team?
How has the commit changed in the last two weeks?
What is the rep-by-rep pipeline coverage?
How is bookings pacing week-over-week?
How many contacts are engaged in this deal?
Then, BoostUp can combine this historical data with AI analysis to predict future outcomes, and answer:
What is the probability that this deal will slip?
Where will we land this quarter?
How much pipeline will we have at the end of this quarter?
How much pipeline are we expected to create this month?
Combining automation and AI creates a potent combination that not only lets sales teams inspect their current deals, but make accurate predictions about the future. When you can understand what exactly is driving your forecast, and where it will end up, you can be far more accurate.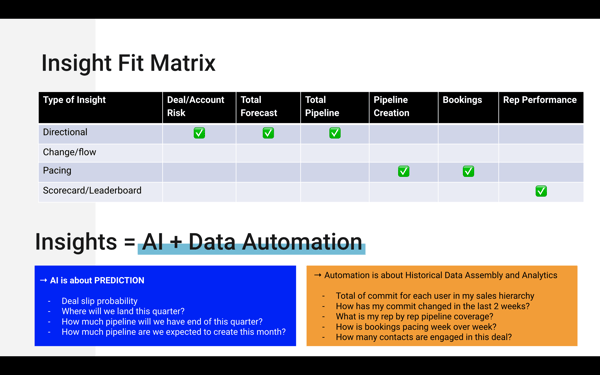 5. Real-Time Forecast Insights
What better way to meet your forecast than to monitor it in real-time? The data used by insight-driven selling allows for real-time monitoring of your sales forecast at an engagement-by-engagement level.
With a Revenue Operations and Intelligence platform, you can track the sentiment of every engagement, who was involved, and what their roles are. Based on the historical performance of your team, comparisons can be made to predict the outcome of any given deal.
Then, armed with the knowledge of the likely outcome, you can make adjustments to your forecast, or take action to remedy potential issues and capture a win.
To watch our entire insight-driven selling webinar with G2, Windstream, and Forrester, go here: