The Revenue Blog /
BoostUp vs. The Competition, What You Need to Know about Pre-Digital Sales Platforms
BoostUp vs. The Competition, What You Need to Know about Pre-Digital Sales Platforms

Zack Cronin
August 27, 2021
Topics covered in this article
When you choose your revenue operations and intelligence platform, you need to know that you are getting the right one for your business. Unfortunately, many platforms simply are not up to the task. Coupled with the recent shift to digital sales, other revenue intelligence platforms are being left in the dust.
Many of the prevailing solutions within the forecasting marketplace were built before this digital era. Therefore, inherently they do not provide the benefits that organizations require to be successful today.
What's in this post:
Pre-Digitization Revenue Operations Platforms
These pre-digitalization platforms were only built for leadership and operations roles. At their core, they lack the functionality for daily use by every role and level of a company. While this top-down view does provide insight into the performance of a sales team, it cannot dive down into every interaction or engagement to view why or how things are changing. Since they were designed for high-level use, they typically feature disjointed views and inflexible reports only meant to provide general information.
Additionally, these platforms were built for the prior view of sales - before the transition to revenue operations. They do not create any additional value for post-sales teams like customer success, marketing, or customer support. They struggle with new revenue models like ARR, and cannot assist with upgrades or retention.
Modern Revenue Operations Platforms
Modern revenue operations and intelligence platforms like BoostUp were born in the digital era of sales to provide more value than outgoing solutions.
BoostUp empowers every level and every role of your revenue team and is built with everyone from front-line individual contributors to top leadership in mind. With everyone working from the same platform, users can derive far more value.
With the revenue team now a reality for the vast majority of organizations, BoostUp creates value for every stage of the sales process, and beyond. This includes the post-sales experience where it helps teams to improve ARR, retain customers, and upgrade accounts through the facilitation of collaboration and information sharing.
BoostUp provides every level of an organization with contextual insights that are easily digestible. More so, it provides both the macro and micro views of the sales funnel. Meaning leaders can not only see what is changing but why.
BoostUp was built to be simple, yet powerful. With an easy-to-use interface, adoption is simple, and front-line reps prefer to spend more time in BoostUp than any other tool.
Maximize Revenue Operations ROI with The Right Platform
To get maximum return on your investment, you must choose the revenue operations platform that fits with the current needs of the digital age. When evaluating a tool, ensure that it can perform key functions required of today's revenue operations and intelligence platforms.
These key functions include:
Macro-level insights to deep deal inspection, all within a single platform.
A common pane of glass for the entire organization.
Forecasting Flexibility and custom forecasting abilities.
Digital collaboration capabilities.
Insights that lead to effective action.
Ability to empower front-line managers.
BoostUp Provides Deep Insights in Just a Few Clicks
Deal inspection is one of the most crucial duties of any sales leadership team. Deal inspection directly leads to higher revenue since managers can spot potential issues, address them with reps, and create strategies to save deals before they slip or result in a loss. Since managers who inspect deals are more familiar with the opportunities, deal inspection also results in a more accurate forecast.
Your revenue intelligence and operations platform should give you complete and total visibility into every opportunity when it comes to deal inspection. Rather than having to search other sources, such as Salesforce, sales engagement platforms, spreadsheets, or even reps themselves, ensure your platform allows for effortless deal inspection.
BoostUp grants all of its users with unprecedented visibility and transparency into each deal, leading to more informed coaching opportunities, better pipeline health, more accurate forecasts, and more overall revenue generated. In BoostUp, managers can easily drill into any deal in the pipeline, view overall health, as well as timelines of activity and engagement. Managers can even view individual emails, phone calls, or meetings, as well as their outcomes.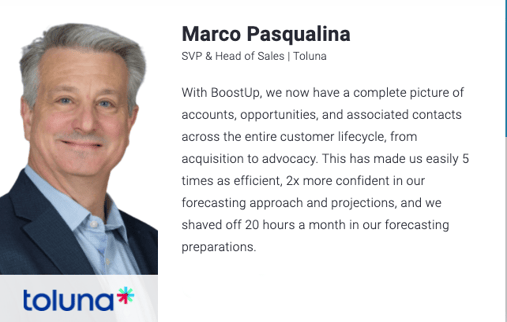 Pre-Digital Intelligence and Operations Platforms Cannot Provide the Same Level of Insights
Revenue intelligence and operations platforms built before the digital revolution in sales do not provide this level of visibility, forcing managers to leave the platform and dig through other sources of information to uncover what is going on with a deal. The result is a lengthy, time-consuming, and inefficient process that likely does not reveal the entire (or true) story. As such, teams will not realize the full benefits of deal inspection, see inaccurate forecasts, and even lost deals.
BoostUp Provides a Common Pane of Glass
Gone are the days of single-point solutions. Revenue intelligence and operations platforms that provide multiple benefits and uses across roles and teams are the future of work. The advent of revenue operations means that sales, marketing, and customer success no longer work in silos, but now function collaboratively in a transparent environment with shared resources and responsibilities. Therefore, tools purchased for one must provide benefits for and be usable by the others.
This collaboration is highly beneficial and provides better strategic alignment and more productive conversations that lead to improved go-to-market strategies, improved pipeline health, increased rates, and more predictable revenue growth.
However, many of the forecasting and revenue operations and intelligence solutions currently on the market are not built for this new, more collaborative, and effective way of working. BoostUp was born and built in the digital age and provides benefits for the entire go-to-market team, from marketing to sales, and success. BoostUp monitors customer health throughout the entire journey and supports upsells, cross-sells, retention, and upgrades.
With BoostUp collecting information from the very first engagement through to retention, teams can know where every opportunity lies. They can identify gaps and align all teams toward solving said gaps.
In BoostUp, every team can see exactly where your current opportunities are in the sales funnel, as well as the status of every customer. Users can ID potential issues with the help of AI and take action to remedy potential issues before they cause problems. With all users aligned on a single pane of glass and the help of AI-driven predictive insights, every forecast call, pipeline review, coaching session, and meeting is more productive and efficient. Teams can focus on the tasks at hand, and instantly know what actions drive results. The visibility into deal engagement fuels productive meetings and drives overall team performance. A study of teams using BoostUp was found to do 10 times more deal reviews per week than teams without.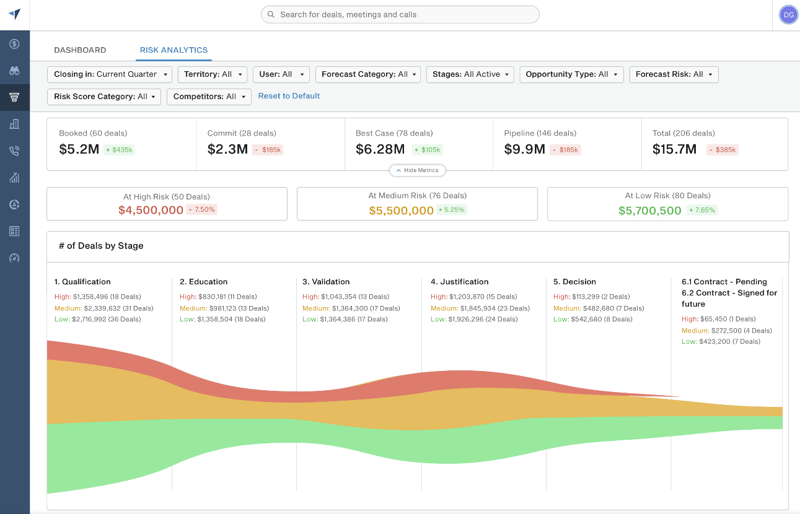 Other Platforms are Point Solutions for Sales Only
Most other revenue intelligence and operations platforms were simply not made for this new, more effective way of working. Their workflows were made before the digitization of sales, and therefore are restrictive, lack the functionality for teams outside of sales, and some even are not usable for front-line sellers. ROI on investment is not as great, and your teams will continue to function in silos.
Further, the platforms cannot collect, analyze, and display activity insights. Meaning, that all teams, sales and otherwise, cannot truly inspect deals. They cannot see the true activity occurring within a deal which negates the benefits of deal inspection.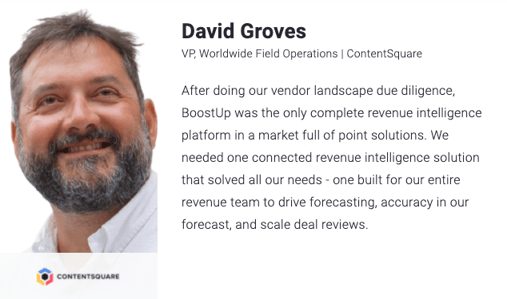 BoostUp is Built for Collaboration in the Digital Age
In the digital age, tools also need to go beyond visibility. They must provide action and collaboration. It's one thing to understand what is happening inside of a deal, it is another to be able to take action on it. After all, deal inspection would be useless if it did not yield actionable steps that help win opportunities.
Both managers and sellers need actionable deal insights that help them to positively progress deals, eliminate risks, and take the next best steps to improve win rates. Just because someone can see what is happening in a deal, does not mean they know how to take action on it.
BoostUp solves this problem by using a unique AI that analyzes every deal, the engagement within it, its progression compared to other deals, and how similar it is to your best-case scenario. Based on the outcome of the AI analysis, BoostUp recommends the best course of action to eliminate risk and progress the deal towards a win. This enables both sellers and managers to take effective action that results in progress. Combine this ability with the intentional, collaborative build of BoostUp and you have a platform that helps you win deals by empowering managers and sellers with the right information.
Flexibility is Key For Revenue Platform Performance
Your business is unlike any other, so why should you be forced to use the same set of standard reports and outputs?
Revenue platforms built before the digitization of sales simply lack the flexibility required to be customized to your business, especially in a reasonable period of time. While these platforms may say they are able to meet your needs, what they really require is months work of custom development in order to build the reports you need.
BoostUp was designed with the idea that every business is different, and therefore allows for custom forecasts that can be implemented in days or weeks. Directly within BoostUp, teams can get forecasts for any period of time on any custom metric.

Other Revenue Operations and Intelligence Platforms Lack the Ability to Provide Effective Action
Other platforms in the space platforms cannot provide actionable insight and facilitate manager assistance and/or intervention within a deal. As previously mentioned, they cannot inspect deals at the activity level. This means that managers cannot see the individual activities made against a deal without extra effort, and therefore struggle to provide effective feedback to increase revenue.
BoostUp Empowers Your Front Line Managers
Front Line Managers are the lifeblood of your business, they are responsible for increasing rep performance, driving accurate forecasts, and ultimately generating revenue. Whatever platform you choose must have the functionality necessary to supercharge front-line manager performance.
BoostUp is proven to increase the effect of front-line managers, with an independent study showing that users of the platform have a 30% greater work capacity.
When it comes to front-line managers, BoostUp pre-digital sales platforms lack the functionality necessary to empower front-line managers to be as successful as possible.
The following are key functions of front-line managers and how BoostUp helps make them better.
Deal Review
With BoostUp activity capture, you can automatically enhance your CRM with first-party activity insights while obtaining the visibility your GTM team needs to drive revenue growth. Not only does this eliminate manual data entry, leading to increased productivity and more accurate data, but it also allows for inspection of sales activity as part of deal reviews.
Remove data silos, seller-biases, and opinions, and employ a more strategic approach to coaching. View all meeting, email, relationship, title, activity, and engagement data associated with the deal and be better prepared for your 1:1s. Increase rep productivity, performance, and review twice the deals in half the time.
Other platforms do not allow for effective deal reviews. They have no contact information, including engagement history, do not have email communications, and therefore lack insight into prospect responses and engagement.
Meeting Preparation and Review
In the digital age of selling, you must make the most of every meeting. BoostUp provides both sellers and their managers with the ability to review the entire history of a deal before a meeting and understand what exactly must be accomplished within it. Prep sessions, aided by AI risk scores, help sellers understand what is happening inside a deal.
After a meeting, managers can review the entirety of the conversation, including a recording of the meeting, as well as a keyword and sentiment analysis.
Other revenue operations and intelligence platforms have no meeting follow-up capabilities, do not have calls to listen to, and lack the engagement history to provide effective meetings that progress deals. BoostUp looks for markers associated with follow-up activities, like reminders, tasks, meetings with no RSVPs, or meetings where an agenda hasn't been touched to not only ensure the next meeting is held but analyze the results of it.
Activity inspection
BoostUp enables managers to spot risk early and determine the events that led to shifts within the pipeline. The BoostUp dashboards offer a real-time look at at-risk opportunities, coverage gaps, and actionable insights to help coach reps to succeed.
​BoostUp provides recommendations and a risk score based on activity but also the lack of activity. Meaning, what you should do that you haven't will help advance the opportunity forward.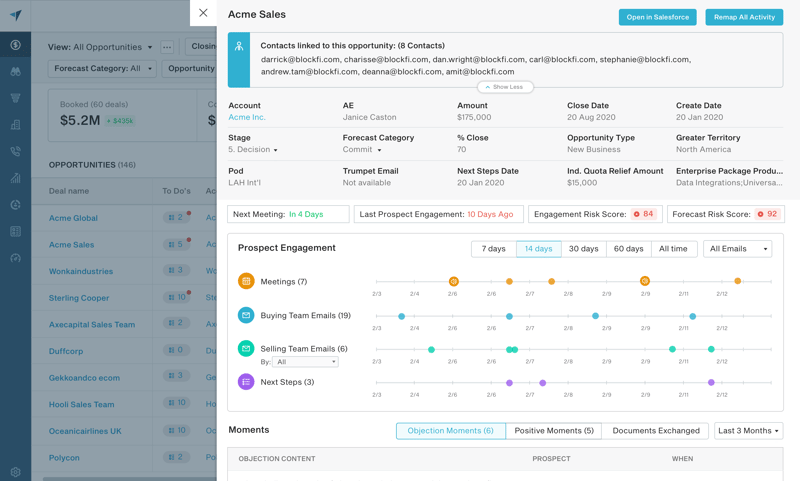 Pre-digital platforms cannot provide reports around opportunities that were and were not touched, as well as with what actions were taken within them, leaving managers in the dark and unable to coach to their fullest potential.
In short, BoostUp is the next step in the progression of revenue intelligence. It was built in and for the digital sales era and provides the function and features required by a successful sales organization. If you are looking for a forecasting solution born in the digital era - then it's time to look at BoostUp and schedule a demo.