The Revenue Blog /
Expert Forecasting Tips: How to Unlock 95% Forecast Accuracy
Expert Forecasting Tips: How to Unlock 95% Forecast Accuracy

Topics covered in this article
Revenue experts Jeremey Donovan of SalesLoft, Toby Carrington of Seismic, and Robert Wagstaff of JFrog recently joined BoostUp CEO Sharad Verma to share their best practices to increase sales forecast accuracy.
The group covered how we have come to arrive at the current state of forecasting, and what teams can improve their forecasting processes, cadence, and data to achieve the most accurate prediction possible.
What is the state of sales forecasting today?
In its most simple form, the two main drivers of sales forecast accuracy are processes and data. The tighter your process and the better your data, the more accurate your forecast is.
The evolution of the forecasting process
We can break the evolution of forecasting down into three simple stages. First, there is bottom-up forecasting. This stage includes stage-weighted forecasts, forecast categories, and processes like MEDDICC.
Next, top-down or hybrid forecasting introduces manager overrides on deal or deal amounts, rep calls, and the inclusion of specific deals in forecasting calls.
Now, we are in the multi-forecasting stage. It includes weekly calls and deal-by-deal forecasting for an ultra-precise measure of which deals will close and which will not.
Over the years, the forecasting process has become more in-depth, analytical, and complex. Today, we need forecast intelligence platforms to help us process the massive amount of data used in forecasting.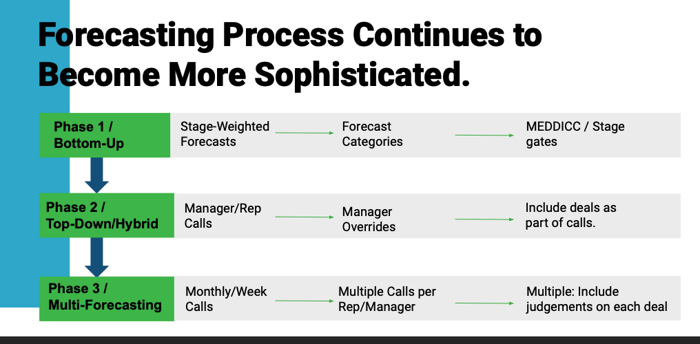 The evolution of forecast data
The metrics used in forecasting also continue to evolve.
Teams were previously limited to current-quarter metrics, commits, booked, and pipeline coverage. Then, analytics adapted to include historical data, including how they pace compared to similar periods and prior quarters.
Now, thanks to forecast and revenue intelligence platforms that use AI, we get insights like: which deals are most likely to slip, where will we land this quarter, and how much in-quarter pipeline will we create this quarter?
Forecasting Tips From The Experts
Jeremey Donovan, SVP Revenue Strategy, SalesLoft
Inspect every deal, every week
As a best practice for the forecasting process, Jeremey recommends that teams inspect every deal, every week. When examining these deals, pay particular attention to the four following factors:
Close date

Deal stage and forecast category

Amount

Next steps
When you inspect the deals, use the factors in your sales methodology.
"I find a lot of managers are not rigorous," says Jeremey. It is that rigor that directly translates to an accurate forecast. To standardize this process, create a scorecard to keep everyone honest and track progress.
Estimate Run Rate for Your Business
For businesses with rapid sales cycles, use a simple formula to estimate run rates. For Jeremey, a linear model that decreases the value added to forecast over time does an excellent job of predicting the revenue generated.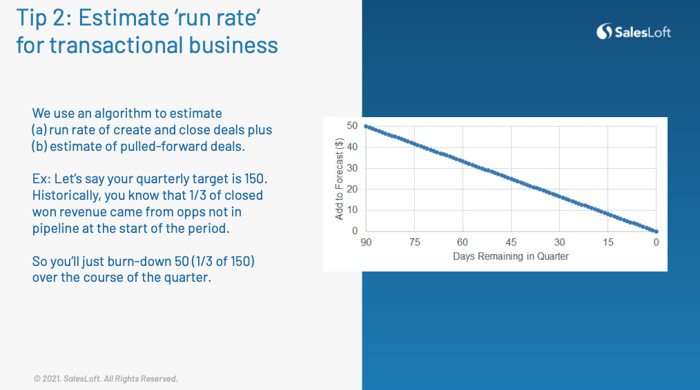 Toby Carrington, SVP Revenue Operations, Seismic
Have a Highly Rigorous Sales Process
Toby's top tip is to apply strict exit criteria to your sales stages that are based on buyer actions, rather than seller input. He suggests that teams use an "outside-in" approach to driving the sales process, and set up their Salesforce to drive that methodology.
Accountability is Key
There must be accountability for both sales leaders and sellers. This fact-based approach helps to keep all parties honest and expectations true.
Toby adds that this is where technology like forecasting intelligence is valuable to highlight risks or issues, but it is important to keep leaders involved in the inspection of each deal.
He also maintains that the schedule of forecasting calls and submissions must be adhered to. There should be no deviation from the standard schedule of calls to maximize accuracy.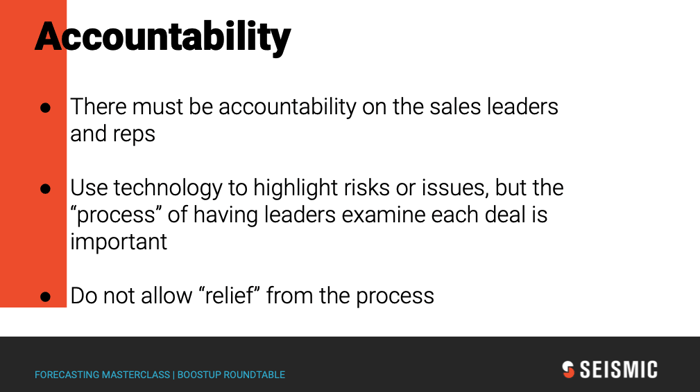 Make Accuracy an Objective
Since an accurate forecast is so crucial, Toby says that it must be a company objective. The engineering, customer success, CEO, and CFO all partake in forecasting calls to create pressure on revenue operations to get it right.
Robert Wagstaff, VP Revenue Operations, JFrog
Having built the revenue operations function at JFrog, Robert shares his insights on how to establish a winning strategy from the start.
Accountability Comes from the Top
To begin, he had the CRO, CFO, and CEO all lay out their forecasting cadence and worked from the top-down to support it. This then forms the schedule on a quarterly basis.
On a weekly basis, there are both sales and support team cadences. Forecasts created by the sales team on Monday are shared with Solutions Engineering, Marketing, Business Development, Product Teams, and others throughout the week.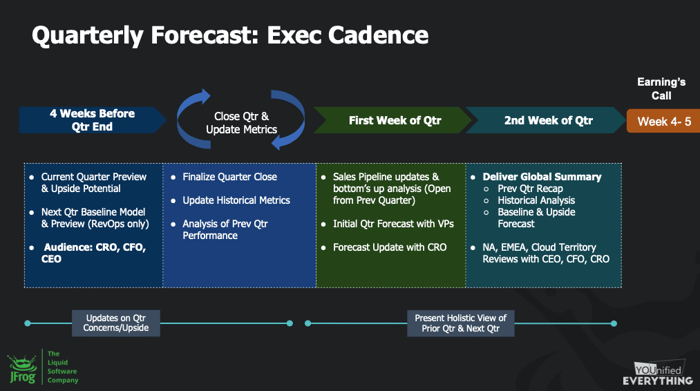 How to Forecast Based on Usage
Robert recommends that teams needing to forecast based on usage use a specific model.
It begins new inputs from sales and existing customers, then applies an MRR and usage data model, then uses seasonality trends and forecasting models for more accuracy.
If you'd like to watch the roundtable in full, you can view it here.