The Revenue Blog /
The North Star Metric: NRR and the Importance of Renewal Forecasting
The North Star Metric: NRR and the Importance of Renewal Forecasting

Brandon Most
January 31, 2022
Topics covered in this article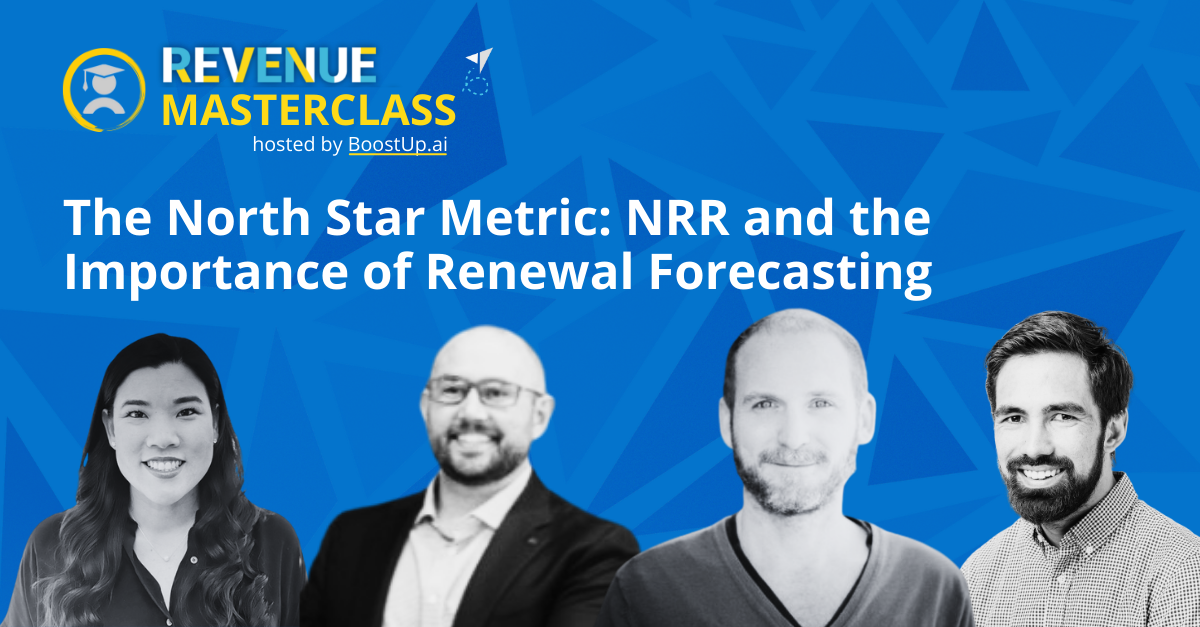 Did you know? Signing new customers costs five times as much as retaining old ones? That's why most B2B SaaS companies have KPIs dedicated to tracking and measuring retention and expansion, creating heightened importance on renewal forecasting.
Companies are looking at net revenue retention (NRR) as the "north star" metric in determining how sticky a company product is to its customers. NRR is the percentage of recurring revenue retained from existing customers. Most successful companies look to achieve a 130% net retention rate score.
We recently had the pleasure of speaking with this esteemed panel of Revenue Operations leaders and practitioners.
They unpacked the importance of renewal forecasting, tracking risk, preventing churn, expanding existing customers, and getting 130%+ NRR.
Points of discussion include:
How to forecast renewals with confidence
How to identify early warning signs of churn
How to prevent church with complete visibility over the customer lifecycle
How to identify engagement gaps and discover opportunities in our customers
How to prevent churn among high growth and acquisition strategies
Renewal Forecasting Pillars
Lucas set the stage for the rest of the group by outlining the four themes or pillars for building an effective renewal forecasting program:
Team
Who is involved in managing renewals and expansions?
What's the handoff process?
Note: This may vary based on the size of the team/complexity of the product
Process
What processes are in place to track customer renewals, identify expansion opportunities, track account health?
What standard meetings occur?
Timing
How soon do you start the renewal process?
How far in advance of the renewal?
Who is involved on both sides?
Tools
What tools do you use to track renewal, expansion opportunities, and risk?
Where do you get visibility into account health and forecast risk?
Where do you get insights into red flags around customer sentiment and customer health?
Lucas states, "The overall idea is that you need to surround sounds the account to ensure you have a good gauge of the health and potential risk associated with your customers."
From the Sales side, they typically own the successful handout to customer success or account team and they are often (depending on the organization) involved in the renewal and expansion discussions.
The Customer Success team would then own the pulse of the customer, the account health, NPS, and the overall relationship sentiment and risk. They also are responsible for working with the Sales or Revenue Operations team on tracking key metrics such as churn rate, long-term customer value (CLTV), net revenue retention (NRR), net dollar retention (NDR), and overall depth and breadth of product usage.
The Product and Support team would own things such as product enhancements and overall support ticket responsiveness, while the Marketing team would own customer advocacy and ultimately the voice of the customer. By surrounding the account, you will ultimately have a better gauge of the overall health barometer and potential risk in your accounts.
When looking at the health of your customers, Lucas recommends that you track these metrics:
Overall usage of the product
Depth of usage (% of product used)
The breadth of usage (# of licenses)
Growth of the account
Length of time as a customer
NPS type account health
Executive relationships
Time managing account
Engagement activity
Renewal Forecasting Amongst Rapid Growth
Jennifer starts her presentation by sharing her thoughts on NRR (net retention revenue), why it matters, and why it is an important metric to track for investors and the board. Jennifer cites a March 2020 study of private equity firms and strategic advisors that indicated that net retention is the most important metric when evaluating a company.
Jennifer defines NRR as the defining metric for long-term growth and overall company and customer health, which considers customer upsells, downgrades, churn to see how much your business could continue to grow from your current customer base alone. This allows you to better allocate and plan for initiatives to drive new business.
Jennifer shares the importance of NRR as:
It ultimately gives you a clear picture of the financial security of the business
In times of uncertainty (like today), investors are looking for companies that are in high-growth mode but also show signs of sustainable growth.
So how does Hopin increase NRR?
Jennifer looks at three core pillars at Hopin when evaluating and increasing NRR:
People:
How do customers want to interact with your company?
What does a team/pod for a strategic account look like?
How are your customer-facing teams structured?
Could the GTM team (AEs, AMs, CSMs, RMs) be more efficient under one leader vs. having Acquisition separate from Retention?
Process:
Communicate the strategy for how your company wants to retain customers to everyone at the organization
Define the single point of contact for a customer and the process to maintain a relationship and add value to a customer throughout their lifetime
Create and document a clear process on how at risk and churned customers are handled
Product:
Expansion within an existing customer is much easier with more than one product to sell
Align your product roadmap with what customers want that you can tie to ROI and revenue
Use your time with your customers to listen to their pain points, what they want from your product, and what they are seeing from competitors.
How does Hopin look at NRR?
At Hopin, retention is their number one priority for this fiscal year. As a two-year company, they are approaching renewals for their existing customers, and they want to ensure they maintain the customers they have.
Jennifer outlines a few things they are focusing on to ensure they hit their NRR targets:
Ensure proper segmentation of key, strategic accounts
Make sure the product roadmap aligns with the revenue potential
Offer a platform for all internal and external meetings, not just events
Renewal Forecasting Revenue Operations Framework
David starts his presentation by outlining Chargebee's four pillars of revenue operations that support all their GTM team and processes. Cross-team alignment and deep coordination amongst the GTM team are critical for the success and growth at Chargebee. They focus on customer retention and build their processes around the customer journey model.
Operations Management
Operational alignment
Sales process optimization, automation, and scaling
Pipeline management
Compensation & incentives plans
Deal desk
Revenue Insights
Quality data and analytics
Creating the source of truth for the organization
End to end client journey data ownership
CRM hygiene
Forecasting
Revenue Enablement
Supports the organization in acquiring and maintaining customers
Supports all customer-facing roles in maximizing revenue gained
Communication and team enablement
Systems Operations
Optimizing the revenue stack
Run efficiently, leverage the best software possible, and de-silo the data
CRM customization and adoption
A focus on the Customer Journey
David details the importance of the customer and the need to understand their needs now and in the future and align their product to meet those needs. For Chargebee maximizing the customer experience across each stage is critically important.
Stage 1 Prospecting: While a prospect looks for a vendor, customer experience is crucial. What do we know about them?
Stage 2 Becoming a customer: Market-leading customer experiences while onboarding. Get to know everything about the customer.
Stage 3 Long-term partnership: Our customers are our partners; they grow with us. Help maximize their revenue potential.
Stage 4 Renewal, upgrade, and referrals: Focused on providing our customers multiple solutions, helping them grow & maximizing revenue. Creating raving fans
In the end, David summarizes the "best practices" for his revenue operations team to ensure they maximize the customer experience and achieve a high NRR percentage across the four revenue operations pillars he detailed out earlier.
System Operations:
Customer journey tracked via a centralized system
Predictive Revenue Forecasting
Revenue Enablement:
Enable the GTM teams to reach their goals, focusing on the customer experience
Start engaging the customers for renewal early, giving time to understand what the outcome will be
Revenue Insights:
End to end client journey visibility
Customers' health monitoring
Operations Management:
Automate and align sales process to the customer journey experience
Multi-year renewals with yearly growth
Renewal Forecasting Process
Scott, a repeat BoostUp masterclass speaker, joins us to cover four overarching themes of renewal forecasting: Process, Pacing, Metrics, and Renewal Forecasting Acquisition Strategy.
Scott shares his process for tracking renewals at ZoomInfo, called it their NRR Forecasting Heartbeat. Scott's process looks like this: SPM Cadence > NRR Review > Bookings Review > Mix and Quality > Product Mix.
They created a Sales Process Management (SPM) cadence and feedback loop. For Scott and ZoomInfo, they review all inputs that are driving outcomes for:
MQL / Demo Conversation
New Business
Renewal
Logo Adoption/Usage
Emerging Product Success
They have a focus on Net Retention Revenue:
Look at expirations in-month
Review of all auto-renewal accounts
Review all early renewals accounts
Look at long-term contract anniversaries
[Tip: Scott shares a tip for tracking renewals. He states upon signing the new business deal; you should automatically create the opportunity for renewal. So you can also disposition your renewal opportunity.]
They perform a complete bookings review. Here Scott is purely looking at dollars. They target growth upon renewal, loss upon renewal, off-cycle upsell, and renewal.
Review current bookings and remaining to target goals
Review pacing against current bookings targets
Review of in-month creation and close opportunities
Review pipeline creation and health
Scott then takes a deeper look at their pipeline mix and quality, which helps ZoomInfo get more accurate in their renewal forecasting targets.
Create a view that looks at your customer segment mix, including pipeline by segment
View the overall quality and health of your pipeline
Track win-rate expectations by looking at historical data.
Scott then looks at his overall product mix expectations, which helps them get more granular and accurate in their renewal forecasting. A few things he looks for here are:
Emerging product attached win-rate
Emerging products ACV expectations and pipeline
Balance of emerging and core pipeline
Forecasting through Acquisition
Acquisitions are becoming pretty standard for more and more high-growth companies. You must create a playbook and a framework for onboarding these companies into the fold, Scott shares.
Scott and ZoomInfo immediately create a complete record of all accounts and opportunities into every CRM instance. For him, this gives them the visibility they need to plan for renewals and expansions. They then rationalize who the primary owner for each account is to create the renewal synergies upon upcoming renewals. This allows them to have more strategic and timing renewal and expansion opportunities.
Then as quickly as possible, bring all that data into one CRM so that you are working from a single pool of data. Once this is complete, spend time cleaning and analyzing the data and leverage your enablement team to quickly get the GTM team of the acquisition company aligned to your processes. For ZoomInfo, this ensures that accounts are managed properly, which can be very challenging if not done correctly.
Renewal Forecasting Using BoostUp
BoostUp identifies not only risk but opportunity in your renewals. By measuring the totality of customer engagement, BoostUp helps prevent churn and lasers in on the accounts at risk while identifying the accounts looking to expand. With BoostUp, centralize your forecasting into a single platform that helps drive predictability across your new business accounts, renewals and expansion opportunities.
Real-time visibility: Get real-time visibility into customer health by identifying risks and opportunities early to improve net retention rates.
Predictable recurring revenue: Recognize early warning signs of churn, spot opportunities for upselling and be more predictable in your renewal forecast.
Improved account management: Leverage customer engagement data to monitor both upsell and renewal opportunities and spend your time on the accounts that require attention.