The Revenue Blog /
A Brief History of the Sales Forecasting Vendor Landscape
A Brief History of the Sales Forecasting Vendor Landscape

Sharad Verma
September 14, 2021
Topics covered in this article

The Future of Sales Forecasting is Here
We're excited to bring you a seven-part blog series focused on the sales forecasting platform market, the origins, progression, and the future.
This series will take you through the incumbents and the challengers who are reshaping the space with modern digital data and modern self-serve forecasting architectures and empowering buyers with powerful options that didn't exist before.
Circa 2015: The Start of Data-Driven Forecasting
Back in 2014-15, as the first generation AI neural networks were gaining ascendance, Aviso - a company founded by hedge fund quantitative experts, as well as C9 (a company that was acquired later by InsideSales/Xant) - launched the first forecasting AI products by snapshotting salesforce data and applying AI methods on that time-series data.
How The Current Incumbents Came to Be
After C9 got acquired, 2015 vintage companies like Clari and Aviso strengthened their positions and over the next 5 years became well recognizable names in the forecasting market.
While Aviso was first to market with their forecasting time series AI product, Clari quickly outpaced Aviso with a pixel-perfect forecasting UI and accumulated a large base of fans. As those fans moved around companies, they brought Clari with them and furthered Clari's presence in the market.
With No Real Challengers, a Monopoly Develops
As the years went on, Clari's early adopters moved from company to company, bringing their preference for Clari with them, helping Clari to establish the leading position within the market.
For the next several years, these two companies faced little to no competition in the forecasting category.
This was also the time when conversational intelligence, sales engagement and sales intelligence categories exploded with tools like Gong, Chorus, Outreach, Salesloft, People.ai, Groove and other tools.
This impassibility granted Clari a virtual monopoly in the market, which led to a lack of innovation, ridiculously high prices, and an arrogant partnership stance, according to our prospects and customers.
However, while entry to the above areas of the sales technology market was relatively easy, the barriers around the complex B2B forecasting segment were significant and those high barriers to entry imparted Clari and Aviso free rein in the forecasting category.
T.J. Williams, Chief Revenue Officer | Degreed

"The RevOps solution provider we leveraged before (Clari) never delivered the value we had hoped for. We did a scan of the market, and BoostUp had everything we wanted. It is really simple to use [and] moved us away from spreadsheets completely, something that sales reps could find a lot of value in, and [it] really helped us in forecasting."
The Downfall of Inflexibility
To understand why Clari became so inflexible you have to look at what was happening in 2015. In 2015, Salesforce was the sole data source for most companies, SaaS was the market that was buying forecasting solutions and those early stages SaaS companies were doing relatively basic forecasting on spreadsheets.
Replacing the forecasting spreadsheet with a simple web-based forecasting workflow that worked for most SaaS companies was all that was needed to win the market.
Put simply, the innovation bar on forecasting was low.
Fast forward to the hyper ARR era where ARR is driving sky-high valuations for tech companies in private and public markets and every company becoming a software subscription company, the landscape has changed.
Today, Sales forecasting has gotten extremely complex and gone beyond new business bookings forecasts.
RevOps is tasked with unifying cross-sells, up-sells with new business into a top-down unified forecast, teach new roles like customer success and solutions engineering how to forecast, and build bottoms up mathematical models to predict pipeline, usage and logo creation.
To add to this, most enterprises today are multi-product companies with land and expand and product-led sales models.
The architecture built for a simple SaaS era, simply isn't enough for today's hyper complex world.
This rigid architecture and lack of support for unstructured data make it very challenging for Clari and Aviso to serve the modern CRO who needs agile change management and very bespoke processes to manage their business.
It is difficult to implement different forecasting processes for different teams, roll out new forecasting metrics, and perform a large number of important forecasting functions, especially without high expense and assistance from professional services.
Veteran Forecasting Platforms Are Not Made for The Digital Era
While even in 2015-18, inside sales were on the rise and buyers preferred remote digital interactions, pandemic changed the world of buying and selling upside down.
Post pandemic, even enterprise sales become hyper-digital and virtual. Post pandemic, digital selling is now producing exponential volumes of digital data for the first time, as the new powerful raw material to push the frontiers for forecasting AI beyond manual data in SFDC to signals from (lack of) buyer and seller engagement.
Risk signals from (lack of) buyer engagement & conversational topics are driving the next generation forecasting AI beyond manual time series data.
Born before the pandemic, Clari and Aviso built their architectures entirely around manual Salesforce data and focused their data analysis on predictions made from seller-driven manual inputs into Salesforce.
Unfortunately, in today's hyper-digital and virtual world, 90% of data resides outside of Salesforce in emails, calls, spreadsheets, Slack, and so on.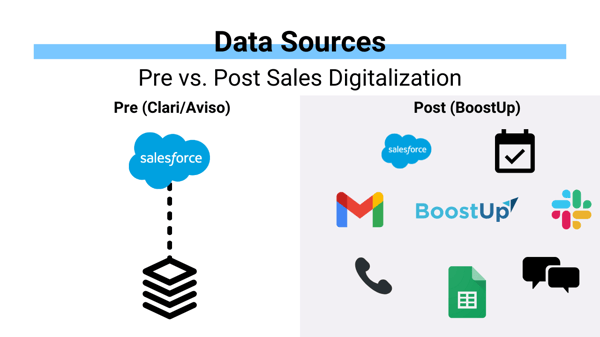 Playing catch up Clari and Aviso, added digital data sets from emails, calls, etc as an AFTERTHOUGHT -
Took the approach of PUSH partnerships vs. PULL data directly from the channels
Limited themselves to email METADATA vs. structured semantic and sentiment data inside emails and transcripts.
Stuck to Account level matching vs. matching data to multiple opportunities within each account accurately


Self Serve NOT Pro Serve.
Modern Forecasting Platforms Need to Be Flexible and Adaptable
Purely as a function of when their foundations were laid, Clari and Aviso struggle to meet the demands of complex multi-product, multi-model, highly data-driven sales organizations.
Marlene Levy, Director of Revenue Operations | Udemy (G2 Review)

"BoostUp is very customizable. I implemented Clari at my last 2 companies and now giving BoostUp a try as we found Clari to miss some key needs year after year."
Modern Revenue Operations wants an agile platform where they can orchestrate --
Orchestrate very custom, bespoke forecasting processes for their business lines.
Be able to make changes on their own with speed and control.
Drive change with speed & consistency.


Platforms have to adapt to my forecasting process. Not vice versa.
The rigid architectures of Clari and Aviso do not offer much in terms of change or flexibility. Once set, customers cannot make changes, experiment with new processes, and are locked into their current process and data.
Adjustments are possible via professional services, but it all amounts to additional time and expense, as the RevOps is entirely dependent on the vendor for changes, limiting your agility, ability to manage change and inflating the total cost of ownership.
David Groves, VP, Worldwide Field Operations | ContentSquare

"After doing our vendor landscape due diligence, BoostUp was the only complete revenue operations and intelligence platform in a market full of point solutions. We needed a one connected RevOps and Intelligence (RO&I) solution that solved all our needs - one built for the entire revenue team to drive forecasting, accuracy in our forecast, and scale deal reviews."
Next, we will cover the requirements of a modern-day digital revenue operations organization, and why BoostUp, a platform created for the digital era of sales meets their needs better than the incumbents. Read part II of this series.