The Revenue Blog /
Evolve Your Forecasting with BoostUp, The Modern Day Sales Forecasting Platform
Evolve Your Forecasting with BoostUp, The Modern Day Sales Forecasting Platform

Sharad Verma
September 16, 2021
Topics covered in this article
We previously covered the history of the sales forecasting platform market, and how the main players established themselves. You can
read that blog here
.
B2B revenue forecasting and the needs of revenue organizations have grown extremely complex in recent years.
We live in the hyper ARR era where every company is turning into a software subscription and recurring revenue company. and sales forecasting has gone beyond new business bookings forecasts.
To add to this, most enterprises today are multi-product companies and multi-model companies with: a) land and expand b) product-led sales models c) run rate business, and d) and high ACV enterprise businesses - all under one umbrella.
Revenue Operations today is tasked with unifying cross-sells, up-sells and new business into a top-down unified forecast, teach new roles like customer success and solutions engineering how to forecast, and build bottoms up mathematical models to predict pipeline, usage and logo creation. Post pandemic, digital selling is now producing exponential volumes of digital data for the first time yielding a powerful new raw material to drive data-driven forecasting.
Enter BoostUp.ai: Digitally-Native, Hyper-Flexible, Data-Driven Forecasting Platform
BoostUp.ai was born in 2018 after conversational intelligence had broken ground and EMAIL content, call transcripts, marketing intent, post-sales usage data and unstructured/NLP technologies were widely accessible.
As a 2nd mover and challenger in the market, and having witnessed the rigidity and data-backward incumbent platforms, we were founded by "data engineers" to create a very open data model and flexible approach to serving forecasting and revenue operations.
BoostUp.ai was founded and created on the principles of:
1. Self-Serve NOT Pro-Serve
We designed our platform to allow the revenue operations to easily manage change without having to work via an expensive and time-consuming professional services model.
BoostUp supports self serve customization of:
Custom Field Definitions: Logic based definitions of closed won, lost, deal amount, ARR, forecast categories
Smart Roll Ups: Add custom business types, formulas, metrics, weighting, custom object field mapping
Guided Forecasting Process: Manager overrides, deal includes/excludes, judgement from SCs and deal team members
Monthly/weekly Forecasting: Along with quarterly, M1, M2, M3 and rolling 3 month periods
Targets: Set up targets by product line, business types, monthly/weekly/quarterly
Pipeline Metrics: Pipeline coverage, pipeline creation targets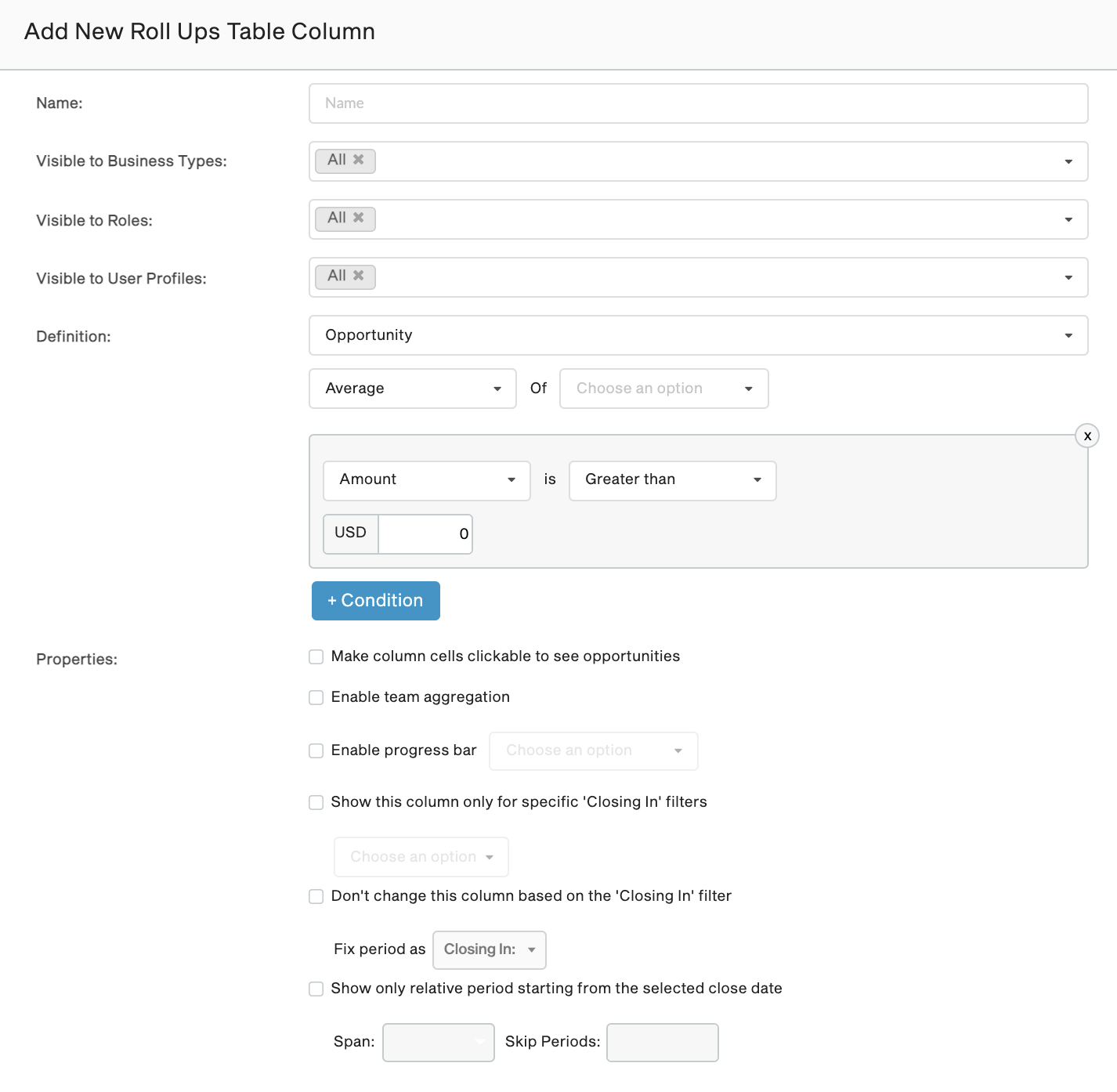 2. Built for ALL Revenue Roles Not just Leadership
Right from the get-go BoostUp was designed for all revenue roles - AEs, first-line managers, 2nd line managers, CROs, Operations and customer success under a single pane of glass.
We didn't want to repeat the mistakes of Salesforce (built just for Ops for reporting) or the forecasting incumbents who ignored the revenue producers i.e AEs and AMs - and designed not only their sales process but unfortunately their products just for decision-makers vs the end-users.
"I have never seen a platform so broadly adopted as BoostUp - from CEO of Degreed to AEs, Managers, Ops, marketing and BDRs…"

VP Revenue Operations at Degreed (Former Clari User)
If there is one thing all our customers would agree on, it's that everyone uses BoostUp. From the CEO, to the CRO, to Operations, managers, reps, customers and even deal desk and solution consulting.
With 15+ mins per user per day of usage across all roles, unlike Clari, BoostUp is not just a leadership software, rather a platform built for ALL revenue workers from top to bottom.
For a majority of our customers, we see the following groups of users using BoostUp on a daily/weekly basis:
CEO, CFO, and CMO using the platform
SCs, BDRs, CSMs
Deal desk, enablement, marketing ops
3. UI and User Experience that drives Viral Adoption
FLMs and reps often say that BoostUp's UI is very intuitive and designed for them vs. just charts and data and the fact that you can see actual emails, calls within just a few clicks brings them back to do their daily job of deal strategy and analysis.
In today's world, data is not the problem. Too much data is the problem.

BoostUp summarizes all buyer interactions into RISK FACTORS for each deal, making it very intuitive for managers and act on early warning signs.
BoostUp provides modern sales teams with a highly intuitive UI that only requires a few clicks for sellers, managers, and leaders to gather all the information that they need. There is no switching windows, heavy lifting by ops teams, or delayed data. It also provides greater accuracy by pulling in more data automatically without the need for seller inputs while at the same time providing clear and highly actionable insights into the sales forecast.
4. Opportunity Level Data Matching vs. Just Account level
As buyers, sellers, and sales management went completely remote and digital during the pandemic, suddenly 90% of data and sales intelligence is buried outside of Salesforce.
Front line managers and reps need buyer engagement and interaction data correctly matched at the opportunity level in order to course-correct and make key decisions fast.
In most enterprises, a lot of accounts have multiple opportunities underneath them. Whether they are renewal, upsell opportunities or opportunities related to multiple products or simply old, duplicate opportunities, the reality is that it is not sufficient to just match email, call data just to accounts.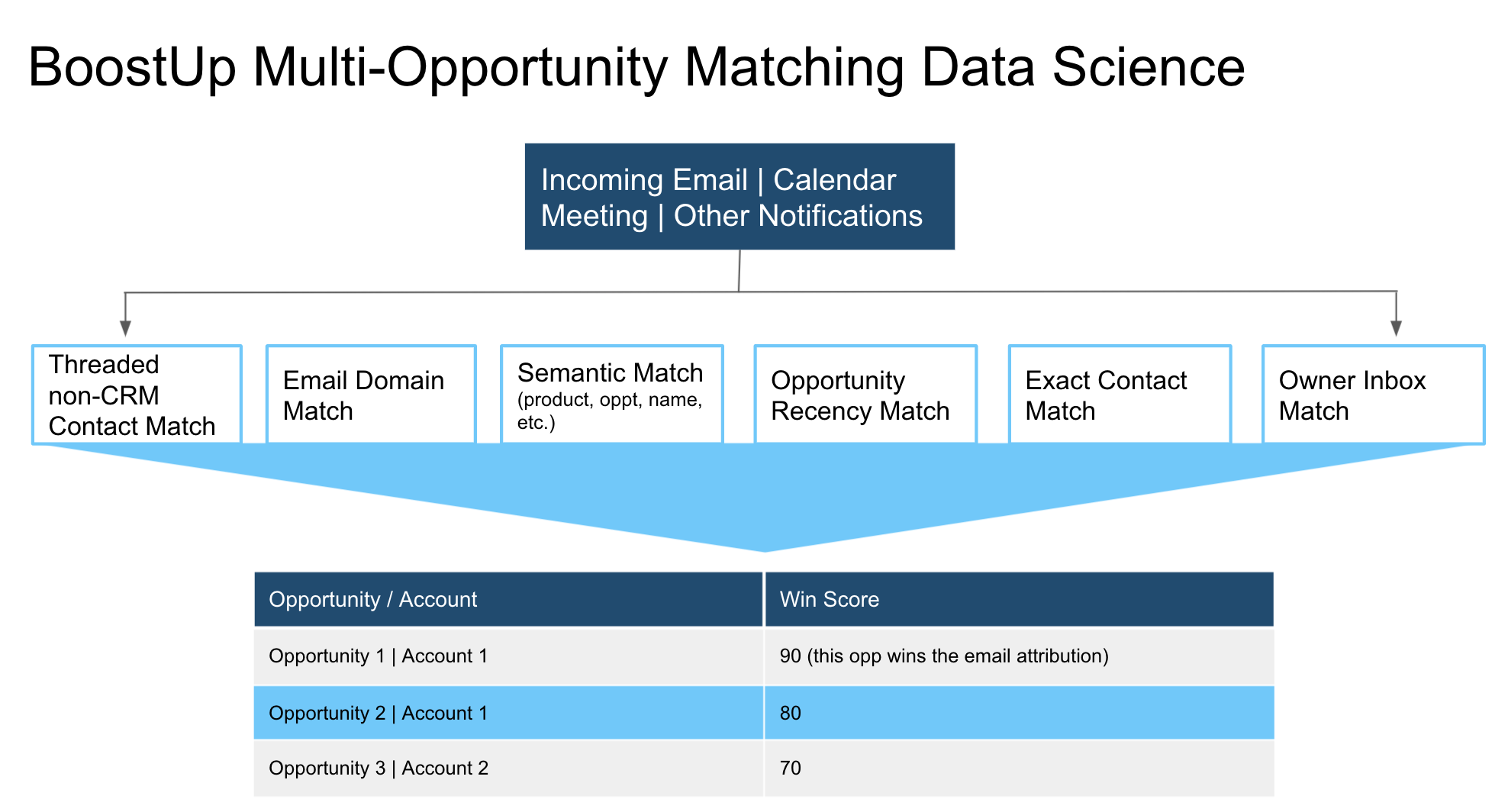 BoostUp matches calls, emails, meetings data to the right opportunity. By applying techniques such as semantic indexing, contact graph parsing our AI algorithms route the right contacts, right meetings and right emails automatically to the right opportunities with a very degree of accuracy.
BoostUp deep matching algorithms are 95% accurate in matching all and right data to opportunities -
Match Any INBOX data (Rep, SC, CSM etc.) to the right Opportunities
All EMAILs regardless of opportunity owner can be routed to the right Opportunity
Handle Account parent/child relationships and appropriately execute on single or multiple matches
Handle multiple opportunities per account
DO NOT REQUIRE Reps to add all contacts
5. Beyond Predictability. The ROI of Productivity Gains
When you are paying a forecasting vendor as much as you pay for SFDC, you have to expect more. Paying for every AE seat while getting usage from only leadership and management does not make economic or common sense.
Since BoostUp is designed as much for AEs and FLMs as it is for leadership, our promise to you is increased productivity of your sales team along with increasing predictability for your leadership team.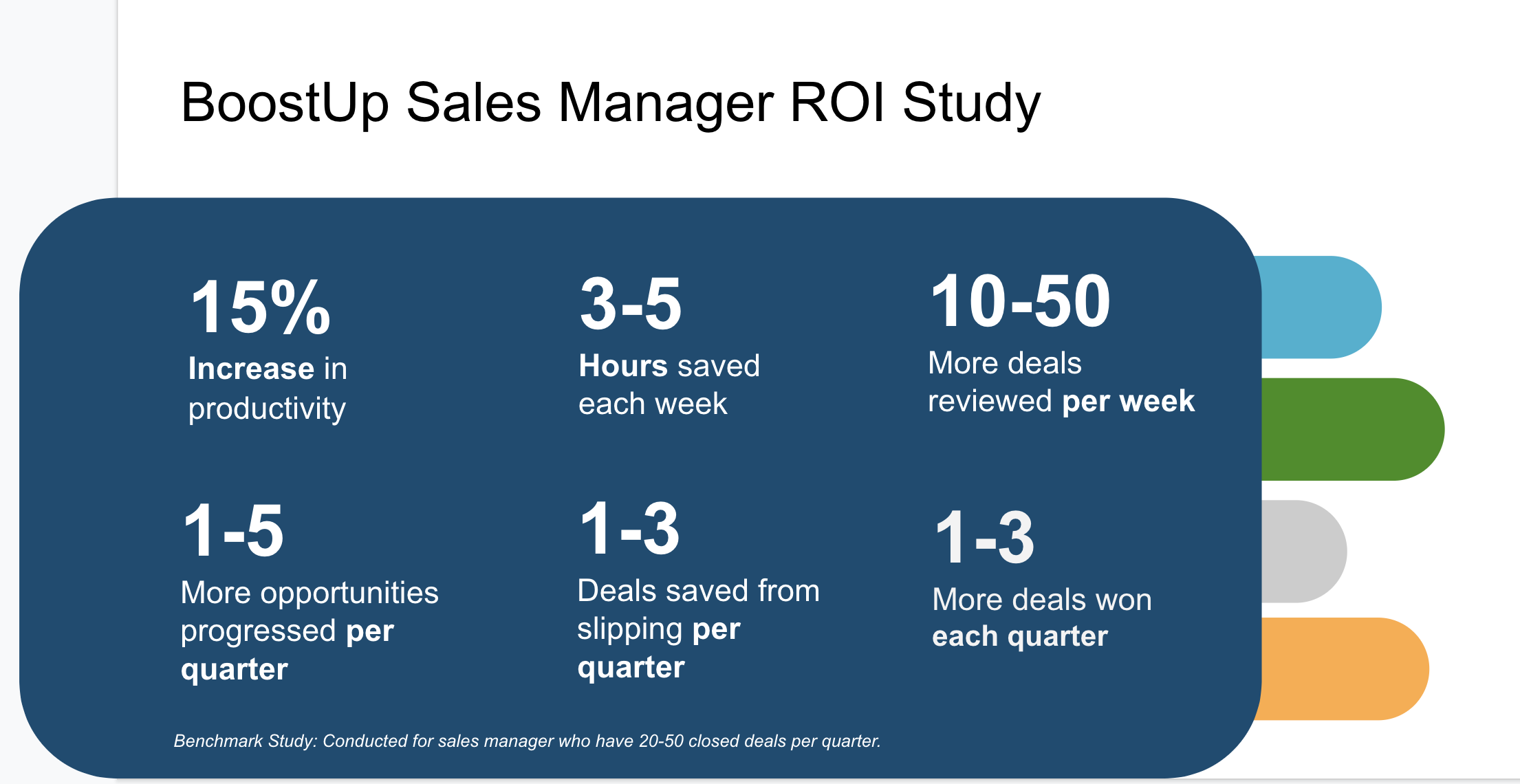 Kenny Hsu, VP of Revenue Operations | Auditboard

"BoostUp was clearly built by people who know what is required to call a forecast. They've put together at my fingertips the intelligence I need to call the right number accurately. With BoostUp, we made a giant leap forward and now have a great handle on our pipeline and calling accurate numbers."
6. Insights NOT Data.
We have a "too much data" problem. Sales managers and reps don't have time to look at dashboards, analyze what the data is saying. They need quick, actionable insights at their fingertips so they can do their job - which is to move the deals and pipelines forward.
Holly Phillips, VP, Enterprise Sales | Degreed

"Since adopting BoostUp, we've noticed that our sales reps have stronger pipelines. Since we have so much more insight, reps are seeing where they have gaps, and how they can improve. It's really given us such great visibility into our deals and when they are going to close."
Next, we will examine how to evaluate forecasting platforms to discover which solution is best for your needs, as well as key features like platform flexibility and completeness.