The Revenue Blog /
BoostUp Achieves Early Recognition of Excellence from G2 and Forrester
BoostUp Achieves Early Recognition of Excellence from G2 and Forrester

Brandon Most
September 9, 2021
Topics covered in this article

We know that many see BoostUp as the new kids on the block, but our customers see us as innovators and leaders in a new and emerging category, Revenue Operations and Intelligence. Our goal wasn't to be the first, but to be the best - lead in innovation, drive high usage and adoption, and build a data platform architecture that is built to last.
G2 Review
"BoostUp was clearly built by product innovators and people who know what is required to call a forecast. They've put at my fingertips the intelligence I need to call the right number accurately."

Kenny Hsu, VP of Revenue Operations | Auditboard
Being born years after many vendors were established isn't a bad thing. It's the opposite, it has given us a unique insight into the market. We have seen limitations from existing vendors in the Sales Forecasting, Revenue Operations, and Revenue Intelligence categories. These limitations are becoming more prominent and apparent as we speak to existing customers of these technology incumbents. The difference is, we were born in the digital era and built our platform on AI technology to provide prescriptive and actionable insights that accelerate revenue growth and drive highly accurate sales forecasting. We are the future of sales.
Recent BoostUp and G2 CRO Fireside Chat
"It is now imperative sales, operations, and revenue leaders equip their teams with real-time sales insights to maximize their impact on the sales in as short of a period as possible. This accelerates revenue growth and drives much more accurate forecasts."

Mike Weir, Chief Revenue Officer | G2
Early and Consistent Recognition by G2
Since our inception, we have consistently been named as a Higher Performer in the Revenue Operations, Sales Intelligence, and Sales Analytics categories by G2 and our amazing customers. Today, that has not changed, with our recent recognition as G2 High Performers in the Fall 2021 report announced this week.
Our ratings and overall satisfaction scores are above or comparable to the established incumbents, with a well above 90% satisfaction. This shows the significant momentum we've had in the last 18 months. Momentum, innovation, and client adoption will lead us to become the established leader in this space.
G2 Review
"BoostUp is very customizable and easy to use. You can forecast the way you want. I implemented Clari at my last two companies and now giving BoostUp a try as we found Clari to miss some key needs year after year."

Marlene Levy, Director of Revenue Operations | Udemy
High Satisfaction and Adoption Amongst our Customers
We have seen extremely consistent high usage and adoption from our user base - over 25 minutes per day, per user. Additionally, we have a 100% customer retention rate, with many of our customers actually expanding their relationship with us.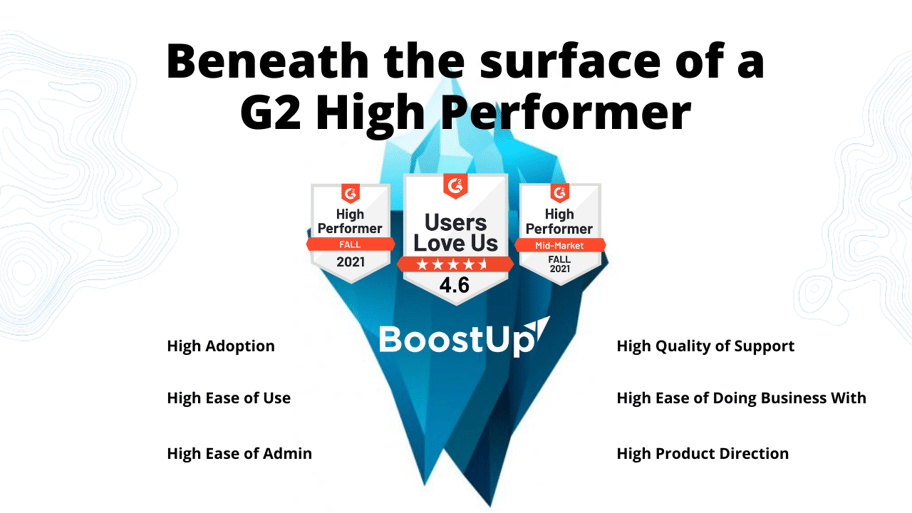 Most people know, achieving G2 Leader recognition is highly dependent on the number of reviews. However, we don't let that deter us as a newer company; we see that as a challenge to dethrone current category leaders.
The metrics that mean the most to us are quality ratings and metrics like the ease of setup, quality of support, and ease of doing business with. See how we compare against the current Revenue Operations category leader, Clari:
| | | |
| --- | --- | --- |
| Ratings | BoostUp | Clari |
| Ease of Setup | 9.6 | 8.2 |
| Ease of Admin | 9.2 | 8.6 |
| Quality of Support | 9.4 | 9.2 |
| Ease of Doing Business With | 9.8 | 9.2 |
| Product Direction (% Positive) | 9.6 | 9.2 |
See the full BoostUp.ai vs. Clari vendor comparison on G2 here.
Recently, we hosted a roundtable with Forrester and G2 where we spoke to the "Insight-Driven Sales Organization," and in that discuss Cameron Napps, the VP of Sales Strategy at G2 had this to say:
"To be completely transparent, I am not a BoostUp customer, but after hearing and seeing what they have to offer - maybe I should be."

Cameron Napps, VP of Sales Strategy and Operations | G2
Forrester Names BoostUp Hybrid Revenue Operations and Intelligence Solution Provider
BoostUp was recognized as one of the few hybrid Revenue Operations and Revenue Intelligence solution providers by Forrester.
By definition, revenue operations are defined as platforms that enable companies to optimize their revenue teams' performance by centralizing data and analytics across opportunities, accounts, and pipelines. As a result, they allow forecasting and revenue performance while also providing greater transparency and accountability.
While revenue intelligence takes that data and expands to capture engagements between buyers and sellers, they usually contain an AI to analyze the engagement data, deliver insights, and provide guidance on deal management, forecasting, and other revenue-generating activities.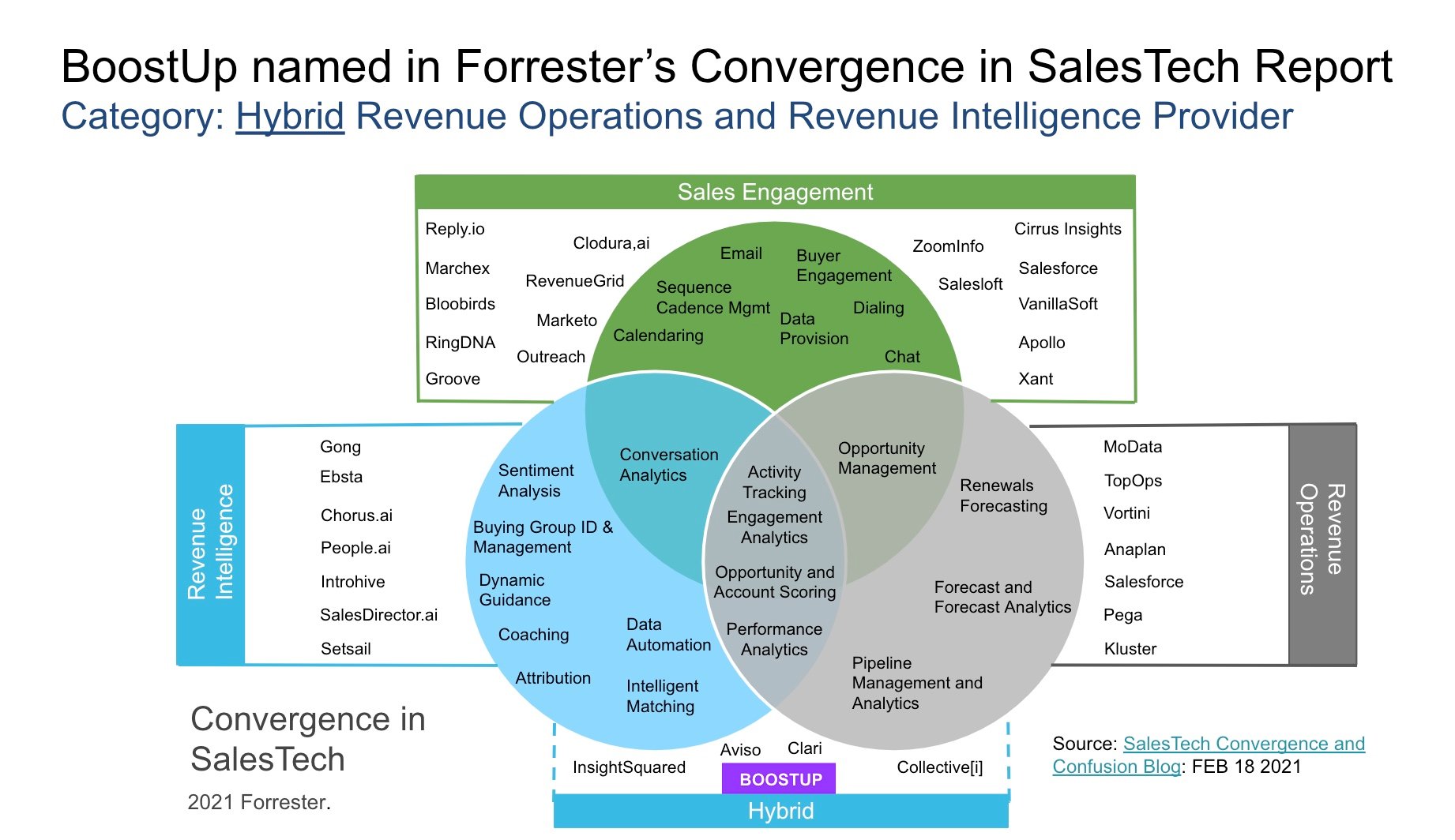 Turn Activity Data into Revenue Insights
BoostUp's Connected Revenue Operations and Intelligence Platform combines all functionality, data, and roles into one place. This provides your revenue team with a connected experience that goes beyond surface-level, disjointed insights. You can quickly discover actionable insights at the moment, move from one sales process to the next without ever leaving BoostUp. Now you have all forecasting and revenue insights connected and are only a click away.
This connected platform provides numerous benefits to revenue teams:
We collect all data automatically and in real-time, eliminating data silos that can cause deals to stall, leads to inaccurate pipeline assumptions and forecasting.
We drive accountability by understanding the context and sentiment of all conversations. This allows us to understand the deal and revenue drivers leading to higher accountability and improved productivity and profitability.
Our AI-driven revenue intelligence and operations platform creates a complete, accurate picture of customer engagement and deepens the relationship with customers speeding up sales cycles and fuels revenue growth.
Forecasting starts with consistency, coupled with process, deep configurability, and AI prediction, which allows us to pressure-test your forecast process. That leads to accurate forecasting that propels sustainable growth.
"After doing our vendor landscape due diligence, BoostUp was the only complete revenue operations and intelligence platform in a market full of point solutions. We needed a one connected RevOps and Intelligence (RO&I) solution that solved all our needs - one built for the entire revenue team to drive forecasting, accuracy in our forecast, and scale deal reviews."

David Groves, VP, Worldwide Field Operations | ContentSquare
Leader in Our Own Class
BoostUp provides you with a connected experience for your entire revenue team. We've found that connected revenue operations and intelligence solutions help our customers drive process excellence and identify risk and opportunity in your pipeline while improving forecasting rigor and accuracy.
We provide dynamic guidance and insights that drive revenue-generating activities for your team. By leveraging AI and machine learning power within our platform, you finally understand what drives your revenue growth and take action.
Are you ready to accelerate your revenue growth? Learn what BoostUp's Revenue Operations and Intelligence solution can do for you. It's time. You, too, will see why revenue leaders from TripActions, Lucid, Sisense, Degreed and many more have chosen BoostUp over the incumbents.