The Revenue Blog /
BoostUp Recognized as the Winter 2022 Revenue Operations Momentum Leader from G2
BoostUp Recognized as the Winter 2022 Revenue Operations Momentum Leader from G2

Brandon Most
December 14, 2021
Topics covered in this article

What does it mean to be a 2022 G2 Revenue Operations Momentum Leader?
As many of you know, G2 is one of the world's most recognized and largest tech marketplace and software review sites in the world. They score products and vendors based on their aggregated market presence from online sources and from vendors' reviews. The Momentum Grid shows the companies that have experienced the highest and fastest increase in customer satisfaction and market presence over the last year.
So what qualifies a software provider to fit into the Revenue Operations category? By G2's definition, Revenue Operations software organizes customer data across various internal business systems to provide revenue insights and more accurate revenue forecasts. Revenue teams use this software to gain more visibility into the revenue pipeline, better manage customer accounts, report on team performance, and ultimately align customer success, marketing, and sales teams to provide one single source of truth for revenue data.
To qualify for the Revenue Operations category, a product must:
Provide revenue forecasting features
Provide AI features to organize customer interaction data across various business systems
Provide features to analyze account engagement across sales reps
Provide performance metrics on revenue KPIs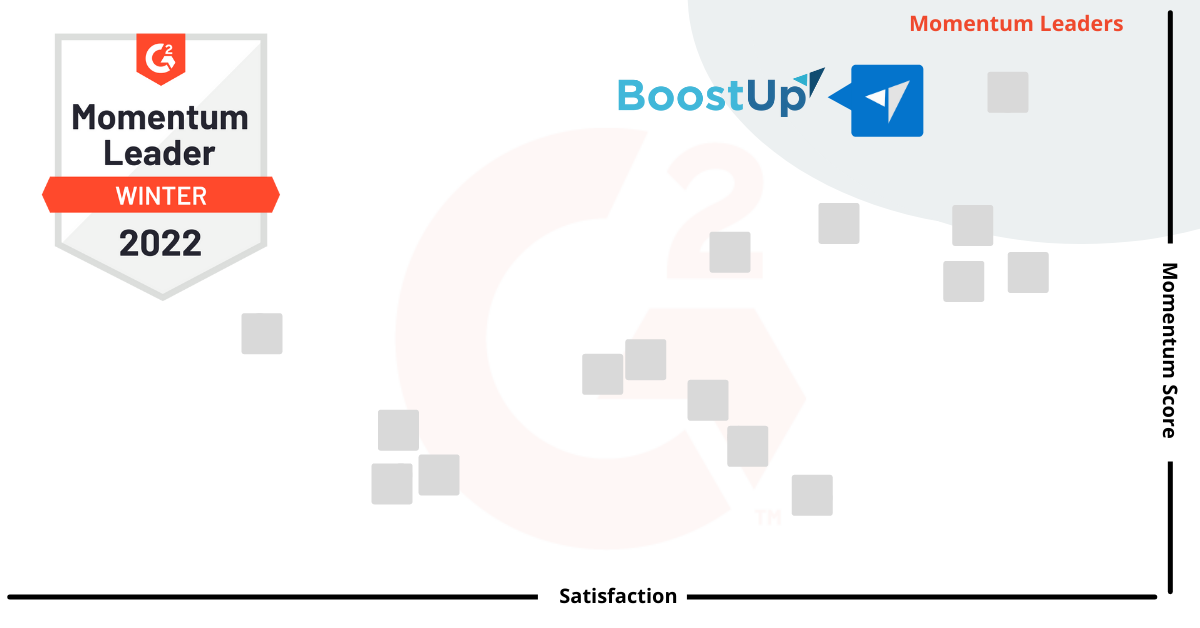 View the Momentum Grid Report for Revenue Operations | Winter 2022
Additionally, BoostUp receives recognition by G2 in a total of 37 reports, earning 17 badges.

G2 recognized BoostUp in 37 reports, 23 additional reports over G2's Fall 2021 reports, receiving 17 badges across the following categories: Revenue Operations, Sales Intelligence, Sales Analytics and Conversational Intelligence - both in the Mid-Market and Enterprise markets. Among these badges includes 7 specialty badges:
Users Most Likely to Recommend
Best Meets Requirements
Easiest Set-Up
Highest User Adoption
Most Implementable
Easiest To Do Business With
Best Results
"BoostUp was clearly built by people who know what is required to call a forecast. They've put at my fingertips the intelligence I need to call the right number accurately. With BoostUp, we made a giant leap forward and now I have a great handle on our pipeline and calling accurate numbers."

Kenny Hsu, VP of Revenue Operations, Auditboard
Leading the pack in Satisfaction Ratings in the Revenue Operations software category.
Quality scores are metrics that we track internally as key indicators of the value we are providing to our customers. When comparing BoostUp to Revenue Operations incumbents listed in the Revenue Operations category on G2, BoostUp is recognized by our customers as leaders above the rest.
99% "Ease of Doing Business With" satisfaction rating
96% "Ease of Set-Up" satisfaction rating
95% "Quality of Support" satisfaction rating
93% "Ease of Use" satisfaction rating
92% "Meets Requirements" satisfaction rating
90% "Ease of Admin" satisfaction rating
"After doing our vendor landscape due diligence, BoostUp was the only complete revenue intelligence platform in a market full of point solutions. We needed one connected revenue intelligence solution that solved all our needs - one built for our entire revenue team to drive forecasting, accuracy in our forecast, and scale deal reviews."

David Groves, VP, Worldwide Field Operations, ContentSquare
Why BoostUp (from a repeat customer)?
Branden Baldwin, Director of Revenue Operations at Balto, previously at Degreed evaluated the Revenue Operations and Intelligence market, not once but twice and in both instances selected BoostUp. For Branden, it came down to adoption, ease of use, partnership, and a customizable and robust platform that he could configure to meet the needs of his organization.
"I evaluated forecasting vendors at two different companies (Degreed and Balto), and each time, BoostUp was chosen unanimously as the vendor of choice, across Sales and Operations. We've partnered with them as they clearly are the market leader in innovation, always pushing out significant updates every two weeks. No other vendor in this space comes close to that. On top of that, BoostUp treats each customer as a strategic partner, and they have given us control of how we forecast with their self-serve configuration module."

Branden Baldwin, Director of Revenue Operations, Balto
This was something he just didn't see or experience from other vendors in the space. Hear Branden Baldwin explain why he is a repeat customer and why he will continue to select BoostUp.
Top reasons revenue teams choose BoostUp.
Revenue teams choose BoostUp to break free from their current rigid solutions. They seek an innovative solution partner that offers a flexible data architecture, a customized experience, and connected intelligence that is easy to use and widely adopted. They value innovation, co-innovation, and a true partner that is prepared and anticipates what's next.
BoostUp, the most customizable Revenue Operations and Intelligence Platform is your co-pilot for predictable revenue, 95% or greater forecast accuracy, unified data, and actionable risk insights for your pipeline, opportunities, accounts, and renewals.
See the Winter 2022 Revenue Operations Momentum Leader in Action.
It's time you give BoostUp a look. See why our customers and G2 have rated us the Revenue Operations Momentum Leader. We invite you to take a look at our self-guided product tours and from there schedule your custom demo of BoostUp today.