The Revenue Blog /
Clari Unveils New Features in Response to BoostUp Innovation
Clari Unveils New Features in Response to BoostUp Innovation

Brandon Most
September 21, 2021
Topics covered in this article
If you follow the sales forecasting space at all, you may have heard some buzz recently. Perhaps the most well-established incumbent in the space, Clari announced a new acquisition and several additional features. These improvements were made in an attempt to strengthen their platform's offering to match the pace of innovation and completeness of BoostUp as we already have these features built natively within our platform.
1. Customer conversation integrations: Clari now integrates with both Chorus and Gong so users can listen to call recordings within Clari itself. Before, users had to leave Clari and find the recordings within the respective platform, causing window switching and complex workflows.
How this looks within BoostUp:
In addition to our integration with Gong, Chorus and others we have our own conversational intelligence. Our call intelligence product records, transcribe, analyzes and stage relevant keywords providing you personalized coaching based on real conversations. We capture and analyze every conversation and that spots risk and opportunity in your deals.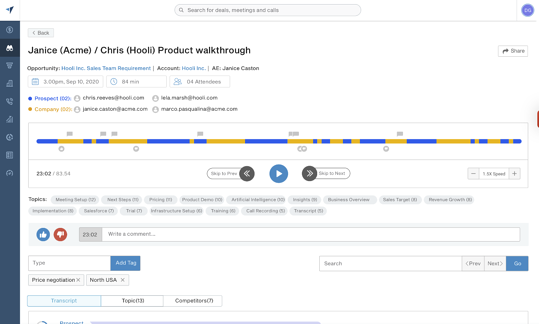 2. Detailed activity views: A new, more complete view of the activities performed against a given deal. Users can view emails, phone calls, and meetings. Prior to this, users had to examine each deal separately in their CRM.
How this looks within BoostUp: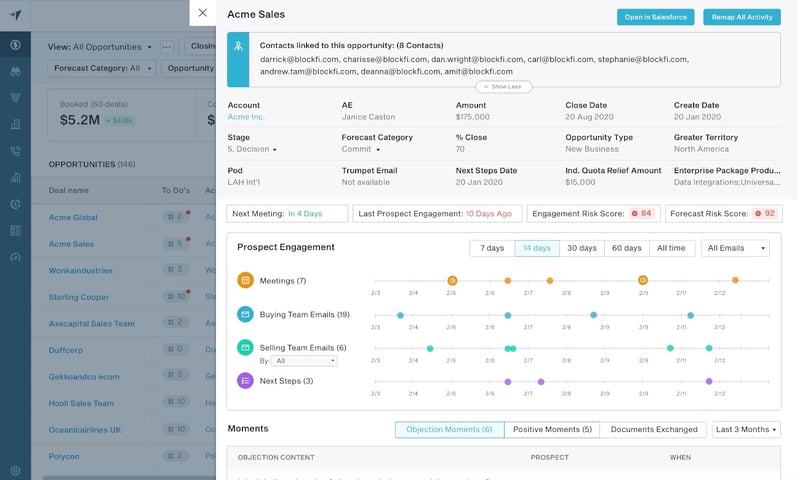 3. Relationship insights: Insights into the contacts involved in each deal, and your team's relationships with them. Before, they had no analytics into relationships.

How this looks in BoostUp:
4. Risk and momentum indicators: Risk scoring to highlight deals that may result in a slip or a loss, as well as the analytics for front-line managers to help them ID and remedy potential problems within a deal. These insights did not exist prior.


How this looks in BoostUp:
At BoostUp, these features have been core elements of our platform since day one, and we have had years to perfect the insights they provide to our users. Though Clari just made this announcement, these new-to-them tools will not be available until the end of this year.
BoostUp is the Sales Forecasting Platform Innovation Leader
At BoostUp, we have long maintained that we are the forecasting platform for modern revenue organizations. BoostUp was created for the digital age of selling and has been engineered to deliver as much actionable information and value to its users as possible.
To BoostUp, these are table stakes and have been part of our platform from the beginning.
TJ Williams, Chief Revenue Officer | Degreed

"The RevOps solution provider, Clari, we leveraged before never delivered the value we had hoped for. We did a scan of the market and BoostUp had everything that we wanted. It is really simple to use, moved us away from spreadsheets completely, something that sales reps could find a lot of value in, and really helped us forecast more accurately, achieving consistent 95%+ accuracy."
The forecasting platform market found a foothold in early 2015, with Clari and Aviso both establishing themselves as the most recognizable names.
Over the years, Clari's UI benefits earned it a following that spread as early adopters brought it from one company to the next. With no real challengers in the market, a monopoly quickly formed that established Clari as the incumbent in the space.
However, this also highly limited the amount of innovation. Clari did not need to improve their platform, as no true challenger existed.
"BoostUp didn't set out to be the first. We wanted to be the best."
Enter BoostUp, which was launched only two years ago, but has been constantly innovating each and every day. BoostUp recognized the fact that existing sales forecasting platforms simply no longer met the needs of modern teams and set out to solve that problem.
From day one, BoostUp has included these exact features that Clari has still yet to launch.
Marlene Levy, Director of Revenue Operations | Udemy

"BoostUp is very customizable and easy to use. You can forecast the way you want. I implemented Clari at my last two companies and am now giving BoostUp a try as we found Clari to miss some key needs year after year."
This is proof that just because you are the first to the market, that you are not always the best. Now, the incumbents who have had over seven years within the space, are being forced to keep up with BoostUp's rate of innovation.
The Forecasting Platform for the Digital Age
Regardless of what features are introduced or improvements that are made, one thing that will never change is the core architecture that underpins these platforms.
By no fault of their own, Clari was created before our current era of digital sales. Unstructured data like the text from emails, phone conversations, natural language, and sentiment simply did not exist in the consumable form that they do today. Subscription, tiered, usage, and adjustable pricing models did not exist en mass. Sales processes were simple and straightforward. The needs for flexibility, adjustability, and customization were all different.
David Groves, VP of Worldwide Field Operations | ContentSquare

"After doing our vendor landscape due diligence, BoostUp was the only complete revenue operations and intelligence platform in a market full of point solutions. We needed one connected RevOps and Intelligence (RO&I) solution that solved all our needs—one built for the entire revenue team to drive forecasting, accuracy in our forecast, and scale deal reviews."
At its foundation, Clari was made to be inflexible, rigid, and structured. As a result, it cannot adapt to unstructured data or be easily customized to meet the individual and unique needs of teams today. In short, it cannot be adapted to the needs of the modern revenue team.
Rather, BoostUp was born for the digital era. Flexibility, adaptability, and unstructured data lie at its core. It is obvious that as more customers move to BoostUp, Clari is now being forced to bring in features that they lose on, but their platform is not made for it.
"BoostUp is breaking the forecasting monopoly and giving this market a much stronger alternative. Their pace of innovation is unparalleled."

VP of Revenue Operations | Forrester Roundtable
Example Custom Roll-Ups Screen and Guided Forecast Process.
At BoostUp, we have not stopped innovating and we believe forecasting is not just table stakes. Each deployment is unique and that's why we continue to bring new innovations into our product.
Deep configurability and value for every role are at the core of our platform vision. We have yet to come across any vendor that can match or emulate what BoostUp was born to do, requiring them to bolt-on solutions.
These bolt-on solutions typically lead to redundancies, clunkiness, integration issues, more change management, and ultimately decreased adoption. BoostUp strives never to stop innovating, drive high usage and adoption, and build a data platform architecture that fulfills every need of today's organizations.
To learn more about BoostUp, schedule your no-obligation demo and see the power of BoostUp for yourself.