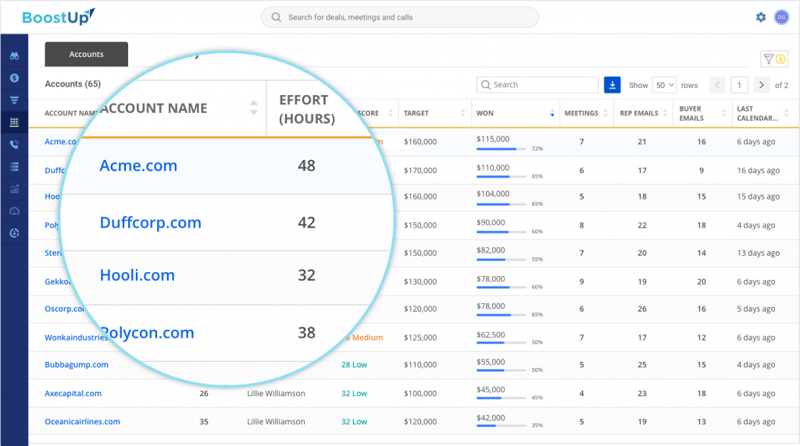 New Feature: BoostUp "Effort Hours"
It is becoming increasingly more challenging for sales leaders to manage and coach their team now that almost all interactions are remote and digital. This activity is often not tracked in your CRM, and there are only a few tools available that help you manage it all.
Yet, it is essential to know where your team is spending their time so you can identify misalignments. You need to know if your top accounts are getting the required attention, if you are spending too much time on an account or opportunity you shouldn't be and when you last touched an account. On top of that, you need to be able to identify and track the next steps with reminders and alerts to keep you on track.
Automated Effort Hours: Know where you are spending your time.
As part of our Account and Opportunity Intelligence products, we already track all activity and associated risk, action items, and provide recommendations and alerts to help your team stay on track and focused. Today, we would like to announce that we have launched a new feature called "Effort Hours." Effort Hours calculates all your account and deal activity and provides you the total number of hours you have spent on each account and opportunity.
What this does is answer the age-old question: How much time am I spending on my accounts? We take it a step further. We help you understand if you are spending your time on the right accounts, focused on accounts that you shouldn't be, or too focused on one account or opportunity.
BoostUp's "Effort Hours" allow you to see how much time your team is spending on each account (in meetings, crafting emails, responding to emails, and more). We take it a step further and provide you insights into who they have engaged with, whom they haven't, how much time they are spending with each contact, and track the next steps for each account/opportunity.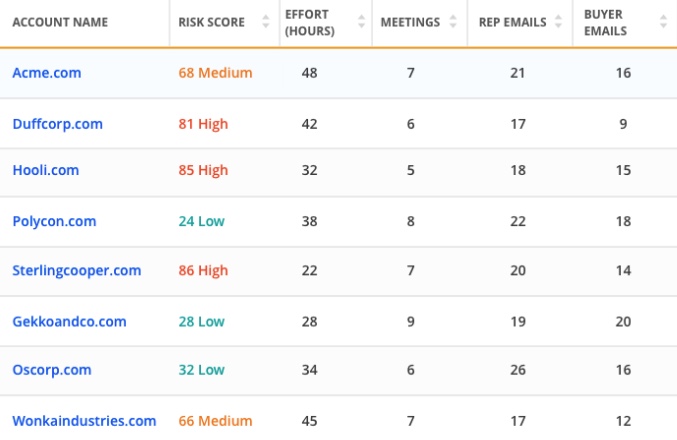 All this activity or lack of activity is summarized to provide you with automated and objective risk scoring. Now you know how much time you spend on each account and what accounts are at the highest risk.
Contact us to learn more about BoostUp Account and Opportunity Intelligence and the BoostUp "Effort Hours" feature.
BoostUp's contextual revenue intelligence platform enables companies to drive revenue through efficient and reliable forecasting, from new pipeline to renewals to optimize customer lifetime value. Purpose-built for digital, hybrid, and remote workforces, BoostUp automatically ingests data from dozens of digital channels and business applications. BoostUp then extracts context and sentiment from that data to increase forecasting accuracy, accelerate deals, reduce account churn, and get AI-driven guidance on pipeline gaps. For more information, please visit: www.boostup.ai.