So, you've decided that it's time to evaluate forecasting platforms.
Whether you are upgrading from the traditional spreadsheet-driven forecast or swapping to a different platform vendor, you likely know that the platform you choose is crucial to your sales success.
Sales forecasting has changed significantly in recent months, yet many vendors have not updated their offerings. Technology and the data that it provides have reshaped the way sales, marketing, and customer success teams work. The result is a shift in the structures, strategies, tactics, and workflows of each function.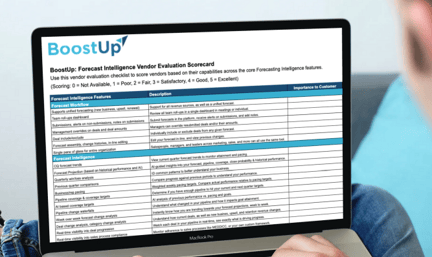 Download the forecast vendor evaluation scorecard here.
To get the most out of your forecasting investment and drive results, there are three factors you must consider as you evaluate platforms. First, how it aligns with the future of sales, who will use it, and where it fits in the marketplace.
Ensure Your Forecasting Platform Properly Capture the Benefits of Digital Sales
Gartner's research shows that 77% of sales leaders say their digital transformation has accelerated in the last two years and that 80% of all B2B sales interactions will occur in digital channels by 2025. That means whatever platform you choose must take advantage of the digital data generated by these interactions.
Examples of digital sales data include:
Emails, sender, recipients, and copy within them.

Phone calls, who placed it, who answered it, and what was discussed.

Meetings, who attended, and what was discussed.

Actions taken against an opportunity, like amount changes or notes made.
The right forecasting platform can utilize all of this data through AI analysis. With artificial intelligence, it can understand context and language build a precise risk score for each opportunity.
Make Sure Your Entire Team will Benefit
Forecasting platforms developed before this era of digital sales are typically built only for sales leadership to use for general reporting. They provide little to no value to front-line managers and salespeople who are still expected to use them.
Modern forecasting platforms are the exact opposite. Instead, they are structured for the new, collaborative nature of revenue teams and are usable for anyone, even those outside of sales. They unite revenue teams and entire organizations around a single pane of glass.
This means that teams can easily share common metrics and data, and understand exactly how each of their roles impacts the organization as a whole.
Find an End-to-End Forecasting Solution
Forrester expects a significant convergence of sales technology platforms in the near future. As different solutions compete to provide the greatest possible value, often the only answer is to expand laterally. More and more point solutions are disappearing in favor of larger and more complex platforms.
The forecasting vendor you choose must stand prepared for this convergence by offering beneficial functions outside of a traditional forecasting use case that your organization can utilize to increase the ROI.
To help you in your search for the best sales forecasting vendor, we've created the Forecasting Vendor Evaluation Scorecard.
Simply fill in the platforms you are evaluating to create a checklist that weights features and performance based on your needs.
You can download the Forecasting Vendor Guide and Scorecard, here.
Get the Sales Forecasting Vendor Evaluation Worksheet to:

What you need to look for in a forecasting vendor

How to maximize your forecast intelligence ROI

The vendor evaluation scorecard
Want to know more about BoostUp? Tour BoostUp's predictive sales forecasting solution.
You can also contact us at info@boostup.ai or schedule a demo here.