Revenue Excellence in 2021: 4 Stages of Excellence Defined.
Revenue Operations has emerged as a central role in connecting systems, data, and processes towards enabling their sales teams to focus their time on selling and driving performance consistency.
Front-line managers now have always-on deal summaries and data available at their fingertips, which grants them the ability to review significantly more deals in notably less time. Further, they can better coach their reps instead of wasting time interrogating them, which drives increased win-rates and lower slips rates.
CROs can finally get a complete view of their business, both historically and predictively, allowing them to achieve significantly more accurate forecasts, create better plans, and best allocate resources.
Finally, reps can focus their time on selling instead of entering data into the CRM. They get more help from their managers and receive guidance on the next step to move a deal forward and build new sales pipeline.
To summarize, 2020 brought:
The acceleration of digital sales with field sales now almost entirely digital.

A renewed focus on the existing install base, recurring revenue, team selling, and team coaching.

The automation of digital data collective that was previously hard to capture in the CRM using manual methods.

The accelerated adoption of artificial intelligence (AI) and the legitimization of the "Revenue Intelligence" market.

A "Rise in RevOps" and additional investments in systems, processes, and tools ahead of adding additional headcount.
Now, enter BoostUp's Revenue Excellence Maturity Model to guide your journey in 2021.
BoostUp's Revenue Excellence Maturity Model Defined.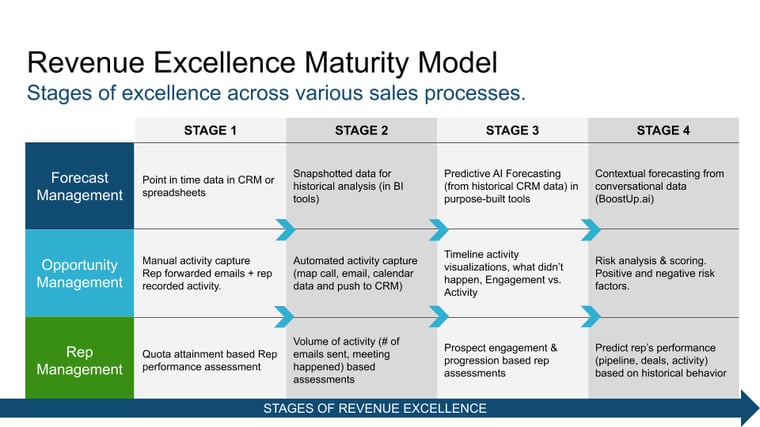 You are a "Stage 1: Revenue Beginner" if you:
Run forecasting in spreadsheets using point in time data.

Rely on reps to manually input activity data in the CRM.

Measure rep performance by only quota attainment.
You are a "Stage 2: Revenue Practitioner" if you:
Snapshot data and run historical time-series based sales forecasting and sales BI reporting.

Automatically capture activity and conversation data from rep's inboxes.

Include rep activity volume in their performance assessment and predictions.
You are a "Stage 3: Revenue Pro" if you:
Use AI on time-series data to predict forecasts and manage your forecast submissions on a purpose-built platform vs. the CRM and spreadsheets.

Use time-series analysis of activity. Measure activity gaps and pauses, prospect activity, reciprocity (lack of engagement), and activity momentum to affect deals.

Measure each rep's digital behavior, including engagement, quality of conversations, ability to expand and escalate conversations and follow sales processes.
You are a "Stage 4: Revenue Master Guru" if you:
Use contextual intelligence (the context from each engagement) and natural language processing (NLP) to predict each deal.

Utilize risk factors and risk scores for each deal to measure process and momentum.

Predict each rep's performance based on their conversations, activities, engagement, and if they follow the predefined sales process.
Want to a deeper dive into the Revenue Excellence Maturity Model?
Listen to the replay of a webinar we had recently, where Sharad Verma, CEO of BoostUp.ai, and Mallory Lee, Sr. Director of Revenue Operations at Terminus discussed what Revenue Excellence looks like in 2021 and what organizations can do to build towards Revenue Excellence.
You will learn the following:
What is Revenue Excellence in 2021

What stages make up the Revenue Excellence Maturity Model

What steps are required to move up the Revenue Excellence Maturity Model

How to set up your company for revenue success in 2021.