Today, no two organizations operate in the same way. Moreso, the needs of every team are constantly in flux. The ongoing efforts to optimize performance, extract revenue, improve workflows, and gain better insights require that businesses constantly adjust their reporting, metrics, and views.
Teams Must Get Forecasting Right
When it comes to forecasting, revenue teams have to get it right. A sales forecast is used by sales, marketing, product, support, HR, and examined by all levels of the organization. This means that metrics and data within the forecast must be highly useful and actionable.
Unfortunately, the vast majority of forecasting platforms are not built in this way. Many require custom work or weeks of intensive configurations to add one simple metric. The result is increased costs, downtime, and wasted hours.
For your business to perform at its best, you need a forecasting platform that is highly flexible and can be instantly adjusted to fit your own unique needs without any extraneous effort.
Whether you are currently using a forecasting platform, or have stuck with spreadsheets, you have likely experienced even just a few of the following scenarios:
A want or need to change your forecasting process, but encountered complexities or difficulties adjusting the process in your system/spreadsheet.


You need to start forecasting for a new business type, but it is difficult to add it in or build the process in your system or spreadsheet.


You want to use a new metric in your forecast, but cannot easily add it to your existing reporting.


You want to give your managers and reps the ability to call both best-case and committed forecasts, but your forecasting platform or spreadsheet either won't allow two forecasts, or it is complicated to add a second.


You want managers to include the deals that make up their forecast calls, but it is difficult to show the deals in an intuitive and straightforward way.


You need to add a new column or view to your roll-ups to include metrics like ARR, commit+best case, the sum of monthly forecasts, or an average of manager and rep calls. But, adding a new column and data is a complex, and time-consuming process.
Any of these scenarios can be highly frustrating. As a result, many of the desired changes don't happen and instead:
You must fall back on manual spreadsheet work and a disjointed process.



You invest weeks or months of time into implementing changes with the vendor. There is an endless back and forth before something is finally changed.


Changes require monetary investment and/or a third-party service, taking budget away from other priorities.
That's why BoostUp is designed to be entirely different.
We decided to address these challenges head-on. Specifically, BoostUp:
Is Extremely configurable to your unique forecasting needs.


Allows Changes can be implemented in days.


Will soon introduce self-service capabilities, giving you the ability to self-configure your forecasting.
This ease of configuration extends throughout the entire BoostUp platform. You can easily adjust your forecast for:
Different business types
Roll-up columns
Forecast metrics
Forecast submission types
Deal inclusion/exclusion
Monthly/quarterly forecasting
Business Types
BoostUp can easily display your forecast, with your different business types. This includes: new business, cross-sells, upsells, renewals, and so on.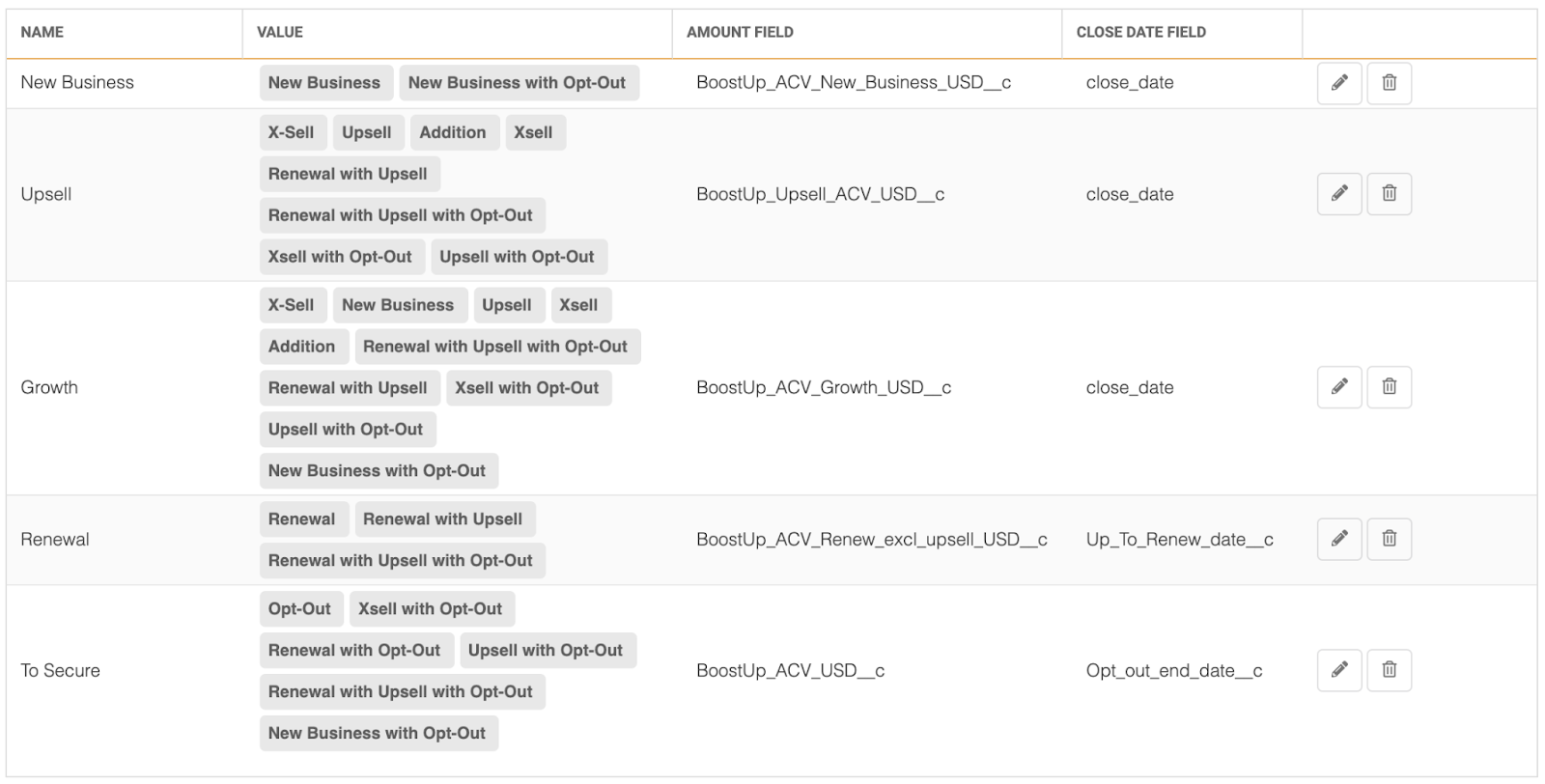 Roll-Up Columns
Static roll-ups are a thing of the past. In BoostUp, you have hierarchical and flexible roll-ups by region, product line, business type, and more.
Forecasting Metrics
Advanced forecasting metrics like historical pacing, quarter pacing, pipeline coverage, submission overrides, new pipeline expected, and more are all available out of the box. Futhermore, any new metrics can be rapidly added.
Deal Inclusion/Exclusion
It's important to know exactly what deals are, and are not making it into each forecast. That's why BoostUp includes a deals included/excluded view.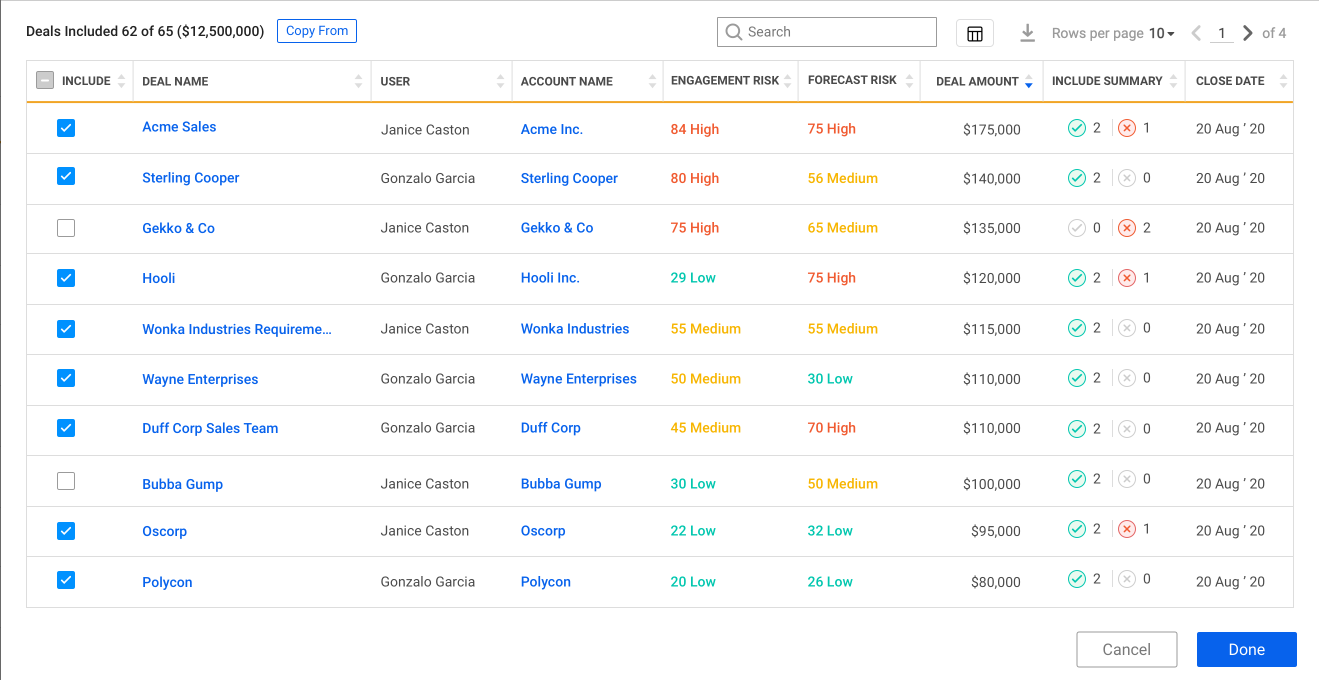 Monthly/Quarterly Forecasting
Don't be locked into a single view when it comes to forecasting. BoostUp provides the ultimate in forecasting flexibility. Adjust your view to any time frame in just a few clicks.
You can take a tour of BoostUp's forecasting platform here. You can also contact us at info@boostup.ai or schedule a demo here.