The Revenue Blog /
Delivering on the Promise Modern Account Planning
Delivering on the Promise Modern Account Planning

Brandon Most
March 11, 2022
Topics covered in this article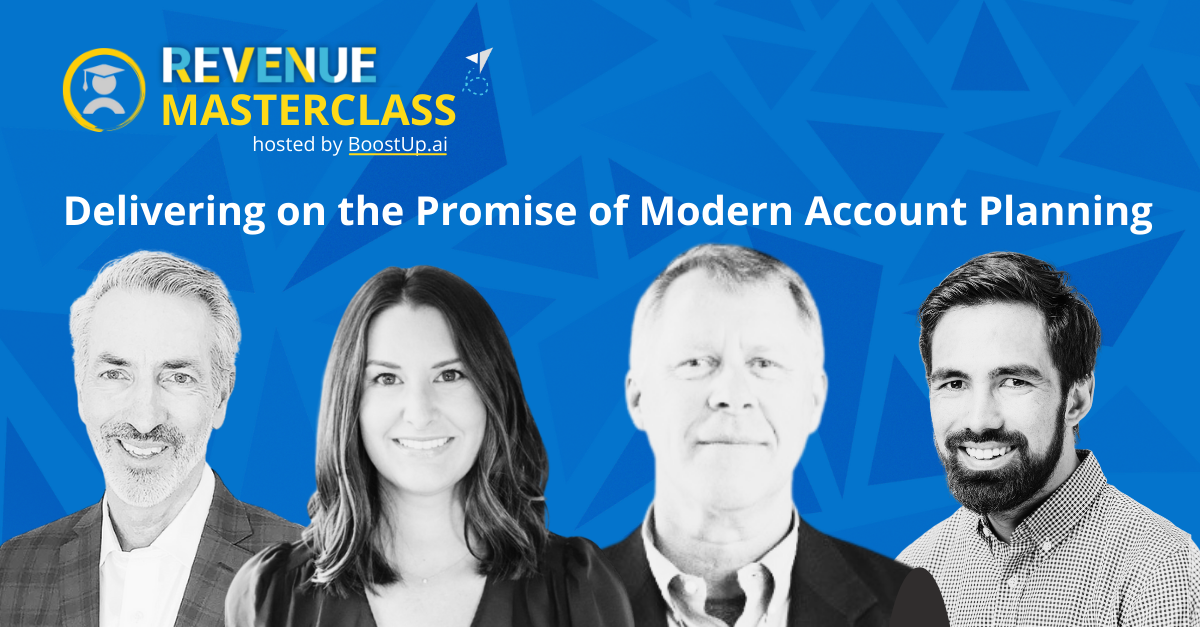 We continue our monthly BoostUp "Revenue Masterclass" series where we speak to Revenue Mavericks that are leading the Revenue 3.0 movement. Today's topic is "Delivering on the Promise of Modern Account Planning." Our esteemed panelists discussed best practices for planning and implementing a structured approach to account planning and how insights and data can help inform the account planning process.
We've seen B2B companies invest enormous time, money and energy in account and territory planning methodologies and workshops. Ideally, this investment results in actionable plans for acquiring and growing customers.
Unfortunately, the plans are often viewed as an administrative exercise by sales reps, developed in silos with disconnected or even competing goals and objectives. Delivering value from the investment requires a repeatable process that includes communication, collaboration, and insight from across the organization (e.g. marketing, product, channel partners, etc.).
In this masterclass, we sat down with revenue experts at Forrester as well as two BoostUp customers, Templafy and Teradata.
Steve Silver, VP, Research Director, Forrester
Lucas Lam, Product & Solutions Director, BoostUp.ai
Kaitlin Mantani, Director of Field Operations, Teradata
Volney Spalding, Vice President, Revenue Operations, Templafy
Key points of discussion during this masterclass were:
The components of effective account planning
Insights into effective and actionable account plans that provide value to the sales rep
Delivering sustained, long-term value from account planning programs
Tools and insights that inform proper account planning
What is Account Planning and What It's Not
To begin, it's important to lay out what is account planning and what it is not.
So what is account planning?
A

success plan

for the sales rep that aligns their assigned account(s), their quota and their commission plan.
A

structured, repeatable methodology

for analyzing an account or set of assigned accounts, developing a deeper understanding and identifying new opportunities.
An

executable plan

that aligns functional groups (sales, marketing, customer success, partners, etc.), with deliverables, commitments and measurable outcomes.
A

process

by which plans are developed, reviewed and updated regularly.
What account planning is not?
More paperwork for the rep

An exercise in quota setting

A once-a-year event (e.g. check the box exercise)
Building an Account Planning Process
It's absolutely critical that you build an account planning program, once that gets executive buy-in and is communicated clearly across the organization. It should help inform and help reps plan, it shouldn't be an exercise that is done and forgotten about. Building an account planning program should look like this:
Organizational Alignment:
Shared goals

Executive engagement and buy-in

Resource commitment
Planning Methodology:
Multiple plan types (strategic, named, territory)
Tailored to your business model
Multiple learning modalities
First-line sales manager learning
Planning Process:
Prepare
Build
Review/commit
Execute
Measure
Adjust
Metrics and Reporting:
Near-term: Activity
Mid-term: Output
Long-term: Impact
Technology:
No double data entry
Integrate with SFA
Collaborate and reinforce
Executing the Plan
When thinking about account planning, here are some things to think about when executing the plan.
Determine the accounts that require account planning.

Develop criteria for which accounts need an account plan.
Discover the needs of those accounts. Here are some questions to ask.

What are the goals of this client?
What do they value the most?
Who is involved in the buying decision process?
What are their current plans to achieve goals?
What KPIs do they measure?

Create actionable steps. Varies by account but could include:

Perform an account and risk analysis
Short-term steps (e.g., getting them to renew with you)
Long-term steps (e.g., long-term client growth)

Execute the account plan. Identify actionable next steps for accounts based on risk analysis from 1st and 3rd party data.
Data and Insights that Inform Account Planning
To inform your account planning process, it is becoming increasingly important to have a tool that helps inform your sales planning process. At BoostUp, we leverage 1st and 3rd party data to inform our account planning, in terms of which accounts to focus on.
Capture all engagement between the buyer and seller and from that provide a risk score based on that engagement, lack of engagement and the sentiment and context of that engagement.
Capture all website activity engagement to help get a better understanding of the account strength.
Capture all activity on G2, from ZoomInfo Intent and from our account-based marketing or ABX platform.

Once we have identified the accounts we want to focus on, we then go a step further and look at the specific engagement on that engagement. We look at:
The engagement and risk score
Positive and negative moments
Contacts engaged or disengaged
Key events and mentions
Topics discussed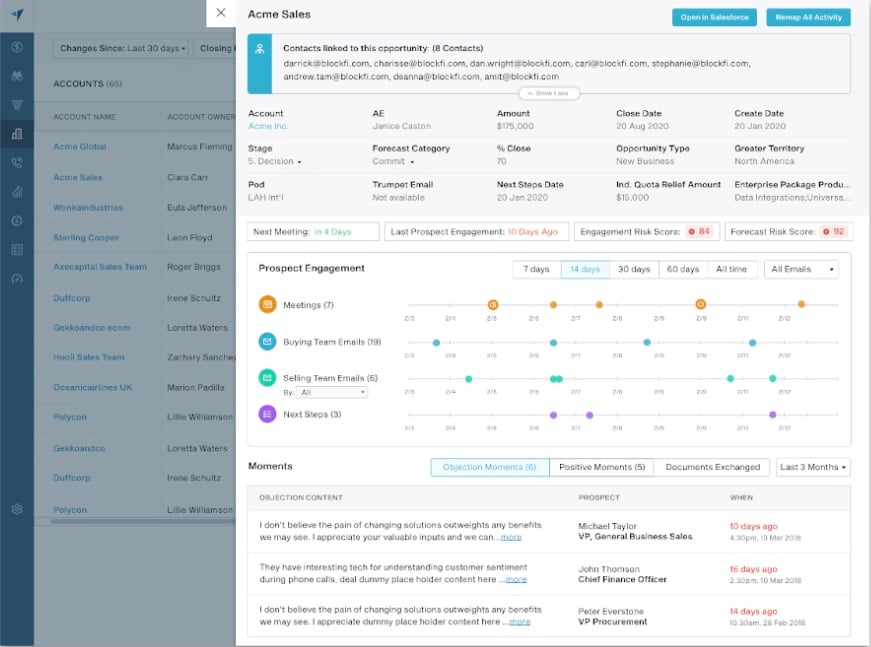 Click here to watch the replay of "Delivering of the Promise of Modern Account Planning.
About BoostUp
BoostUp.ai is the fastest-growing Revenue Operations & Intelligence Platform, helping revenue teams like Teradata, Udemy and Cloudflare automate forecasting roll-ups, achieve 95% or greater forecast accuracy, increase rep capacity, and drive a predictable revenue machine. We bring together all digital revenue data and predictive intelligence into a single, highly usable platform where reps spend 20 mins per day.