The Revenue Blog /
SVP Revenue Operations Insights: RO&I Key Evaluation Criteria
SVP Revenue Operations Insights: RO&I Key Evaluation Criteria

Topics covered in this article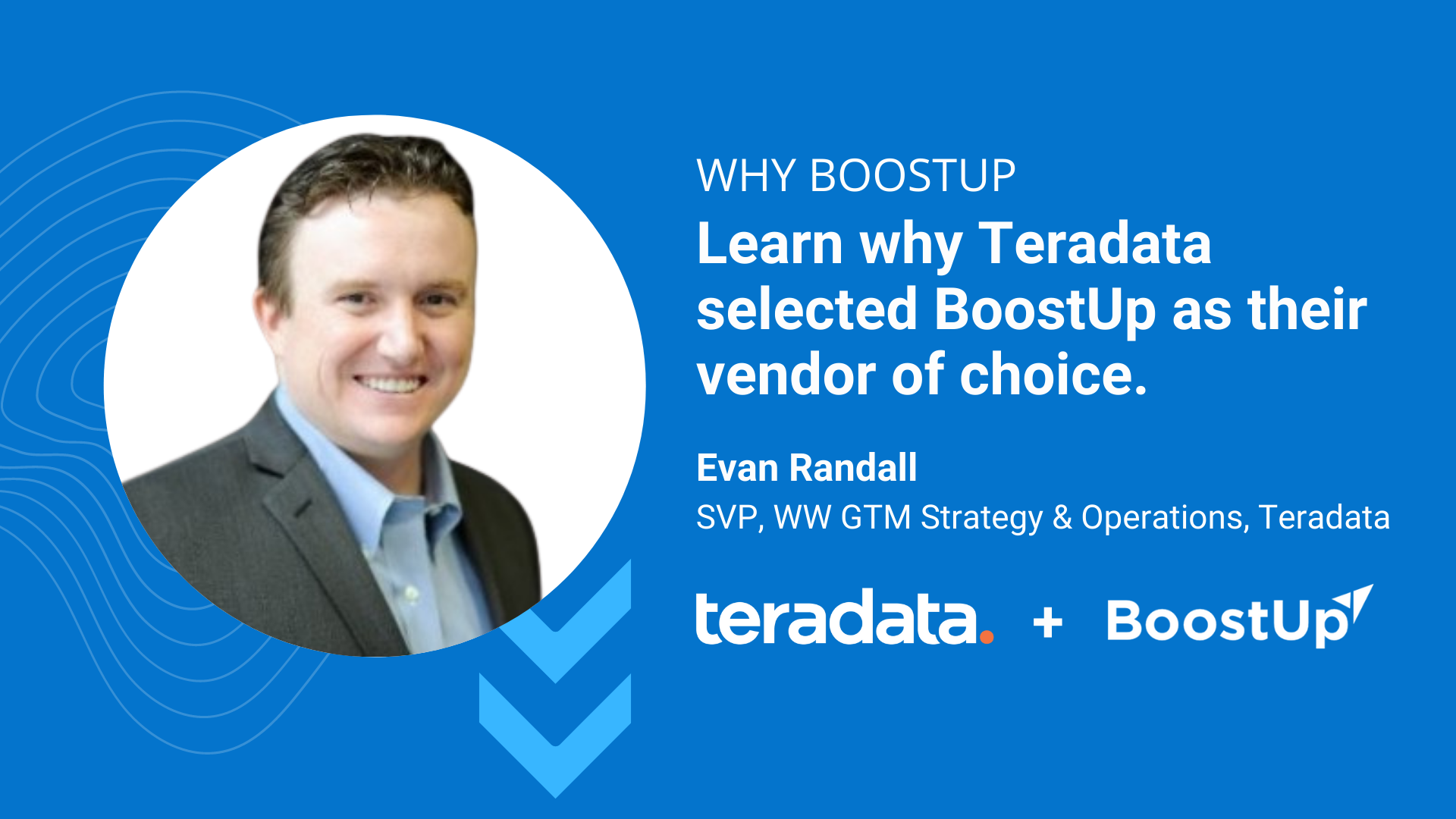 Revenue Masterclass presentation with Evan Randall, SVP, WW GTM Strategy and Operations, Teradata
When evaluating technology vendors, you must ask yourself, "Do you want the sizzle or the steak?" We'll get to this later if you haven't heard this phrase before.
We recently enjoyed listening to Evan Randall, the SVP, WW GTM Strategy and Operations at Teradata, detail his evaluation criteria and key questions to ask RO&I solution providers. In addition, you'll get an opportunity to download the RFP evaluation criteria and vendor comparison checklist he used that ultimately landed BoostUp as his vendor of choice.
It's important to note that the real work begins before you even start the search process and that work begins by taking a look within your current organization.
Before Searching for a RO&I Solution Provider
Before Evan and the Teradata team began looking for a technology solution provider, they needed to first start with their end in mind. Next, they needed to understand their sales process, methodology, the challenges they were facing as a revenue organization, the gaps in sales tech, and the key capabilities they needed to solve the challenges they were facing across the entire customer lifecycle.
By doing so, as Evan states, "this will help build your digital transformation roadmap for your GTM organization." Here are five overarching areas that Teradata was looking at before looking at RO&I solution providers.
Evaluated their current tech stack against capabilities
Identified gaps and overlaps in their existing text stack
Identified tools to consolidate tools based on the overlaps
Pinpointed opportunities to reduce tool fatigue, swivel-sharing
Optimized usage and value across existing tools
For Evan, it's all about four metrics when evaluating technology, solution, or platform providers, on top of the additional capabilities being generated, and they are:
Increase sales productivity
Increase the number of at-bats and deal velocity
Improve win conversion rates
Shorten the sales cycle
It all ties back to productivity. It starts with digesting all the data between the buyer and selling team, getting actionable insights to push the deal forward, and making it easy for the reps to do their work. That's one of the reasons why Evan decided to go with BoostUp, as the RO&I solution provider for Teradata.
Essential Questions to Ask RO&I Solution Providers
Before asking a RO&I solution provider questions, Evan wanted to document his expected return and make sure it aligns with the four key metrics we discussed earlier. Another key aspect of his RO&I evaluation criteria is "how extensible is the tool."
Meaning is the tool flexible enough to meet our unique needs and requirements. Evan wants the product to align with how their business runs and the processes they have in place at Teradata because that's ultimately what makes the product sticky and increases adoption.
Again, adoption and usage align with his ultimate goal of "is the tool going to make it easy for my team to do their job effectively. Evan identifies these core questions to come out of the gate when evaluating RO&I providers. Without this, you just have the "sizzle and no steak."
(Don't worry, we will get to this more later - but doesn't it whet your appetite).

Some questions to ask RO&I solution providers:
What range of interactions and digital buyer signals are being captured? (i.e., to make better, more informed decisions)
How accurate is the activity matching to the right account, opportunity, and contact? (This is a challenge for everybody, especially when dealing with large enterprises with multiple department buying motions, as an example. You need a provider you can work with to "tune" this to get the right activity to the right place.)
Does the vendor support the ingesting custom objects? (Most organizations have data lying in data warehouses and custom objects - that information needs to be easily accessible and digestible into the RO&I platform, so you have the complete picture.)
How configurable is the platform? Can you customize it to fits your needs? (Most organizations have unique and different sales motions depending on the type of company and the complexity of their selling motions. This is especially true for companies with a partner or merger and acquisition strategy.)
Does the platform support complex selling motions and advanced forecasting?
RO&I Evaluation Themes
For Evan and Teradata, they looked at three overarching themes:
Am I able to become more accurate in my forecast?
Am I able to get insights into the health of my pipeline?

Do I know if my accounts and deal are healthy?
Do I have the insights needed to make data-driven and informed decisions?
Am I able to increase sales collaboration?

Am I able to track all buyer and seller activity data and accurately tie that back to the right account, opportunity and contact?
Am I able to get visibility into the health of my accounts and deals?
Do I have the insights to know who my high performers are?
Am I am able to identify risk before it's too late?
Again, Evan points back to improving sales productivity and effectiveness.
What can I get my sales reps to be more effective sellers?
Can I provide them with better insights for better sales control?
Can I make it easier for them to make updates?
Can I give the sales management team the process and rigor to make good decisions?
Can I move away from story-telling and using data to make informed decisions?
RO&I Selection Criteria
Evan and Teradata leveraged BoostUp's RO&I Vendor Evaluation and RFP criteria document on their evaluation criteria. This allowed them to rate the features and capabilities that were most important to them against the vendors they evaluated.
If you are in motion and evaluating vendors, please use this template for yourself - download it here.

To end Evan's presentation, he shared the eight dimensions (or reasons) he selected BoostUp as their vendor of choice.
Overall Forecasting Capability
Pipeline and Deal Inspection
Activity Matching & Activity Capture and Insights
Messaging and Notifications
Predictive Accuracy and AI/ML
Front-Line Opportunity Management
Overall User Experience
Ease of Change and Self-Configuration
Evan ends his presentation with this thought as a technology buyer. Do you want the sizzle or the steak? (I told you we'd get to this). He says, "Don't let the sizzle get in the way of the steak," meaning don't the funding from the 800-pound guerrillas distract you and persuade your choice. Instead, select a vendor with the strongest product, and the best roadmap, even if they are newer to the category and don't have the same brand recognition (yet).
Evan indicated he did that, and he couldn't be happier in his decision to purchase BoostUp as their RO&I technology provider to run one of the most critical parts of the Teradata business, and that's the revenue engine.
So when you make your next purchasing decision, ask yourself are you buying the "sizzle or the steak."
You can listen to Evan's presentation here, starting at the 24-minute mark.
About BoostUp
BoostUp.ai is the fastest-growing Revenue Operations & Intelligence Platform, helping revenue teams like Teradata, Udemy and Cloudflare automate forecasting roll-ups, achieve 95% or greater forecast accuracy, increase rep capacity, and drive a predictable revenue machine. We bring together all digital revenue data and predictive intelligence into a single, highly usable platform where reps spend 20 mins per day.
Take one of our product tours and when ready, book a demo with you to learn more about our Front-Office Revenue Operations & Intelligence platform.